Australian studio Bury Design has revealed a 57 metre trimaran concept named Global Explorer.
The trimaran's hull configuration consists of three aluminium hulls; a central narrow and deep centre hull, which incorporates the propulsion package, and two outer hulls.
This configuration provides safe seakeeping with a "low rate of roll" and "minimal resistance."
The Global Explorer's diesel-electric propulsion system consists of four CAT engines and twin 1100kw electric motors for a top speed of 22 knots. A range of 6000 nautical miles is possible at a cruising speed of 18 knots.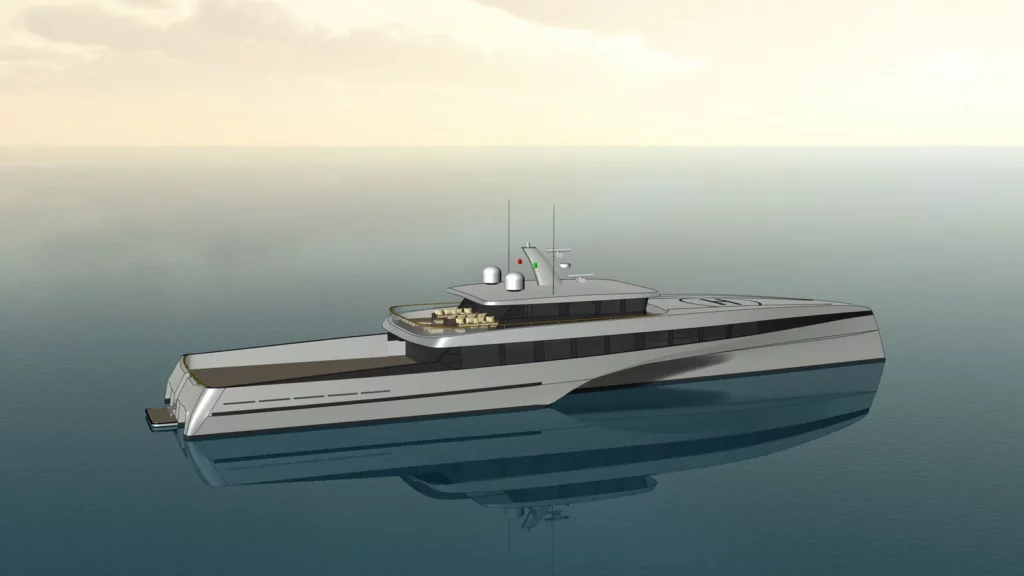 "With the speed and seaworthiness of a much larger vessel, this design is a unique blend of hull forms," said designer Paul Bury.
The concept, he said, is, "designed to travel the world, from relaxing cruising, intrepid arctic exploration or open ocean transits."
Elsewhere, a touch-and-go helipad can be integrated on the yacht's large aft deck, alongside storage for submarines, tenders and water toys.
The concept was designed to facilitate research explorations, with the aft deck including engineered hard patches to allow for specialised lifting equipment.
Accommodation on board is for a maximum of ten guests and a crew of nine. The guest areas also include upper and lower lounges with far reaching ocean views.