Azurite Yacht Design is a next-generation yacht design studio established in 2020. Based out of Sydney, Australia Azurite prioritising the use of environmentally friendly materials to reduce toxic waste caused by the yachting industry.
This week I had the pleasure of sitting down with Founder and Lead Designer at Azurite Design, Rumeysa Aris, who was not only proud to be the head of a successful female-founded design studio but also presented a plethora of interesting ideas that gave further insight into the processes behind the creation of some of her award-winning concepts.
I wanted to dive deeper into the process, behind the creation of these striking concept designs, more specifically the Infinit-e 88 concept, which was unveiled earlier this month.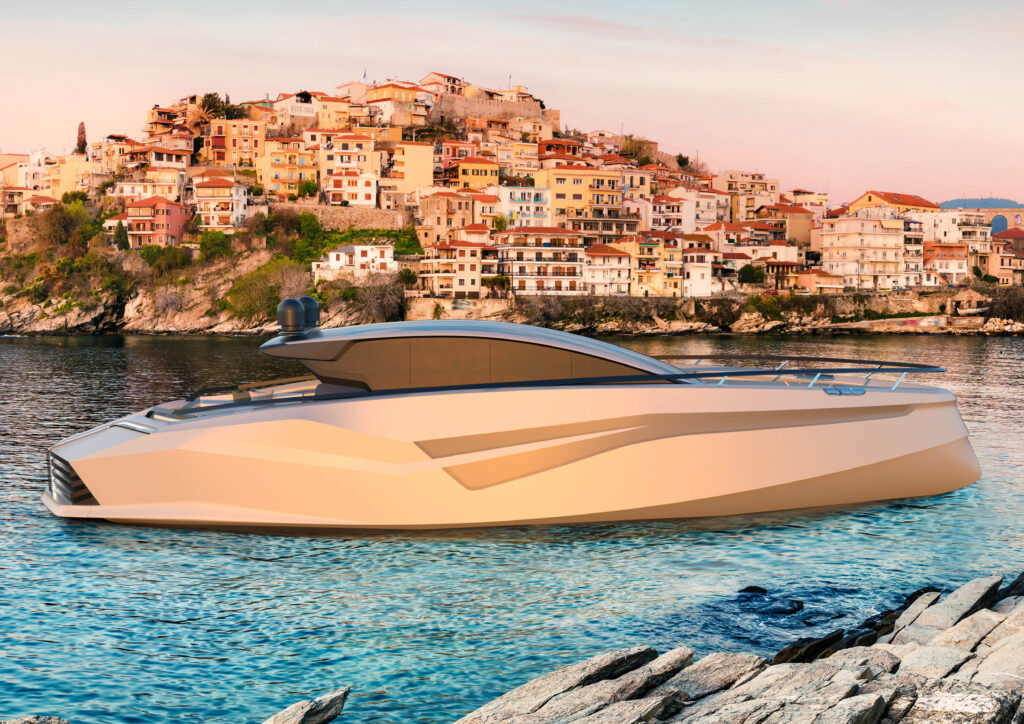 Can you tell me a bit about yourself and Azurite Design and how it came to be?
Well, I am from Turkey and have both an educational and professional background in yacht design, having worked in Turkish shipyards since 2014. Turkey is home to several esteemed yards, so I was lucky to have access to such great facilities from the jump. I did an internship at Sunrise Yachts and worked on production for a while after completing university. I had the privilege of designing a 34-metre explorer motor yacht from 2016 to 2018, and that was my first experience in designing and resultantly seeing my design in production simultaneously. During the process, I worked with the yacht owner to tailor the experience both inside and out and this custom approach is something which I have certainly carried forwards with me. I learned a lot about working closely with clients and I also had an important and interesting insight into the workings of the industry.
I wanted to move to Australia to improve my English really. I had no intentions of staying for longer than a year, but I found a good job at a design studio in Sydney. My time at the studio aided me in expanding my knowledge base around commercial vessels, combat ships and diving boats. I also worked for an American designer for some time, working mainly on lighting and furniture which armed with knowledge of interiors I hadn't had exposure to previously.
I decided to start Azurite Yacht Design in 2020 and now, with more success in recent months I can now run Azurite full time. Since our inception, we have won 4 esteemed design awards for our concept ICONIC SX80 project, which I was thrilled about. After this success however, I wanted to create a new concept that was much smaller. I wanted the concept to be more detailed and I wanted to stick with the striking exterior design style that I had used previously on the ICONIC SX80. I also wanted to use electric technology and I know that this is something usually better suited to smaller vessels.
What led you to Infint-e 88?
Generally, I start a lot of my concepts by collecting images. This could be an object with an enticing form, a component of a car, or a piece of sculpture. It can be anything really. I decided to make a mood board for the interior and exteriors. With the exterior, I wanted the main inspiration for the form to come from my love for supercar design. I combined these reference pieces with my knowledge of yachts and the Infint-e 88 was born like that.
We also put time and effort into creating a potential owner profile for every concept that we design. I believe it is particularly difficult when you are designing something from scratch to really visualise who you're designing for, and in practice I had always previously worked closely with potential owners during production. So, Infint-e's interior is deeply inspired by the character, taste and lifestyle of the owner, whereas the exterior cannot always be a completely custom product. I feel it is of upmost importance to reflect this tailored experience with the interior.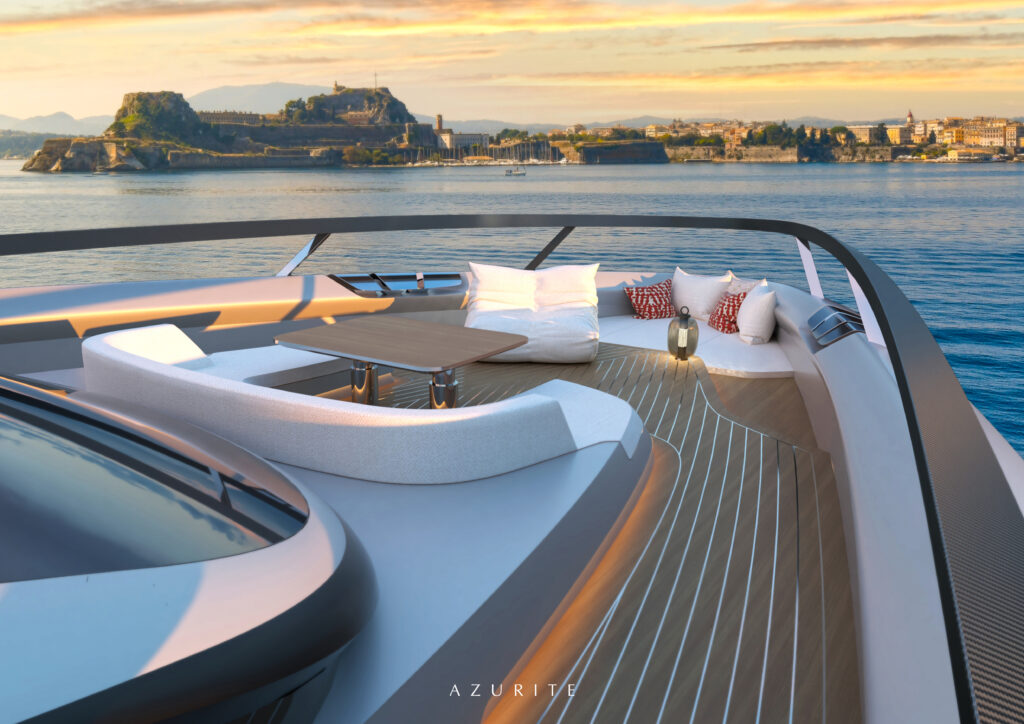 Were you always keen on designing an electric concept with the Infint-e 88 project?
The first aim at Azurite is always to design unique and interesting concepts, but the second aim is to make these concepts as sustainable as possible. I really wanted to reduce using fossil fuels in my design, even though I'm not an engineer, I still mark my design as sustainable product and that's why I chose electric. I always market products as hybrid or electric as I think that sends a good message to the rest of the motor yacht and design industry.
There seems to be an electric wave of sorts within the motor yacht industry currently. Do you see a future for green solutions in a space with such a traditional taste?
Yes, there is huge potential in the yacht design space for sure. You can see just from the last few years, the number of electric cars in production and the interest that the EV space has garnered has increased exponentially. I think the yachting world is a little behind from an engineering perspective and with regards to battery design, but we are certainly moving in the right direction.
There are a number of very interesting sustainable yacht concepts out there, some of which even suggest hydrogen as a fuel of the future. I think for yachts below the 30-metre mark, electric propulsion is a great option, but I believe for those larger yachts' hydrogen power is an excellent solution. The options however seem to be endless, as at sea you are surrounded by the sun, water and wind; all forms that can be harnessed to create different types of green energy. I believe that there is certainly a future for these sustainable vessels, and I believe it needs to be the future because we must create better options for the good of our planet moving forwards.
This is not the only way that we can be sustainable in production, however. We can also promote the use of environmentally friendly materials in interior and exterior design as well. At Azurite, we don't use plastic, minerals on polycarbonates in our designs. These sustainable materials, probably more noticeable in the interior, compliment the entire project in efforts towards sustainability overall.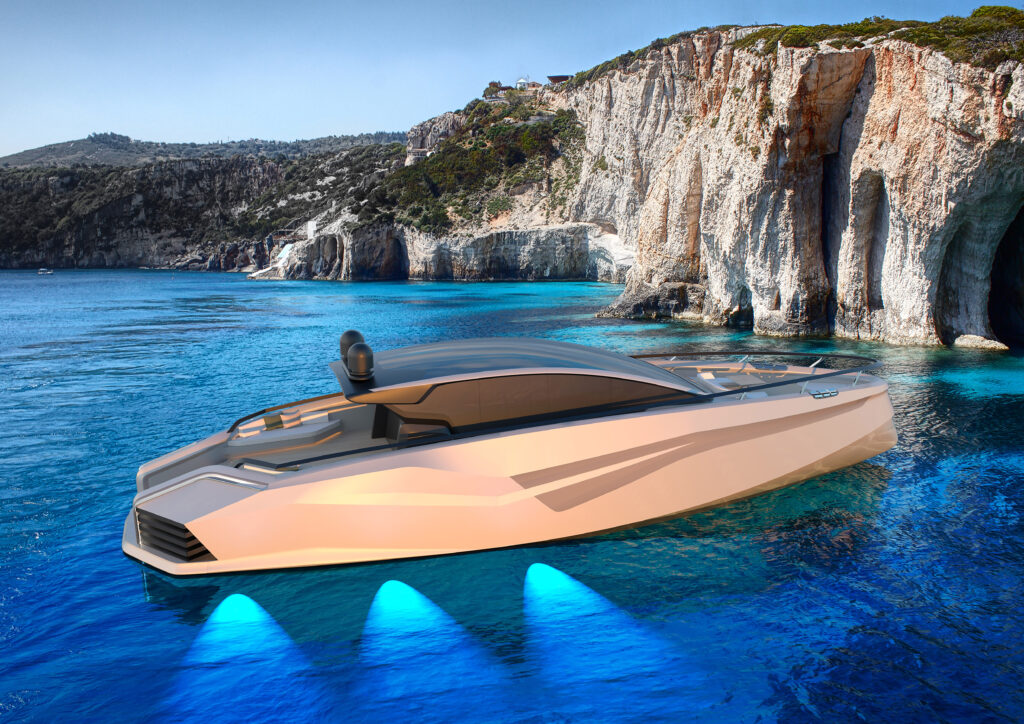 Looking to the future then, will you continue with this sustainable approach?
I want to. I'm not an engineer but I would like to work with engineers to improve the concepts that I market. In the future I have a few brands that I would like to collaborate with when I design, and hopefully we will make that happen in working towards a greener future.
Talking more about the Infint-e 88, what were your inspirations for the exterior design of the project?
I think supercar design was very interesting for me in getting inspired. We tried to create this sleek, sporty, striking exterior reminiscent of lines you may see on a variety of vehicles on the road. The second real inspiration for me is the potential client's lifestyle. Working on an owner profile for the Infint-e 88, I deduced that the clientele would potentially be a young professional of sorts, working in the big city, but at the weekend would have fun onboard the Infint-e with family, exploring the ocean and cruising in peace. I envisage that the Infint-e 88 would also be great for parties and hosting, and certainly has appeal with a younger demographic, which all ties in nicely to that youthful supercar feel.
At Azurite we aim to design these clean and sporty exteriors, but we want the interiors onboard our concepts to be the complete opposite. You can see interesting sculptural furniture, interesting textures, designer products and vintage products all in one space. The interior needs to be a fun place to spend time in for the owner, so we aim to create harmony between these seemingly contradictory styles inside and out.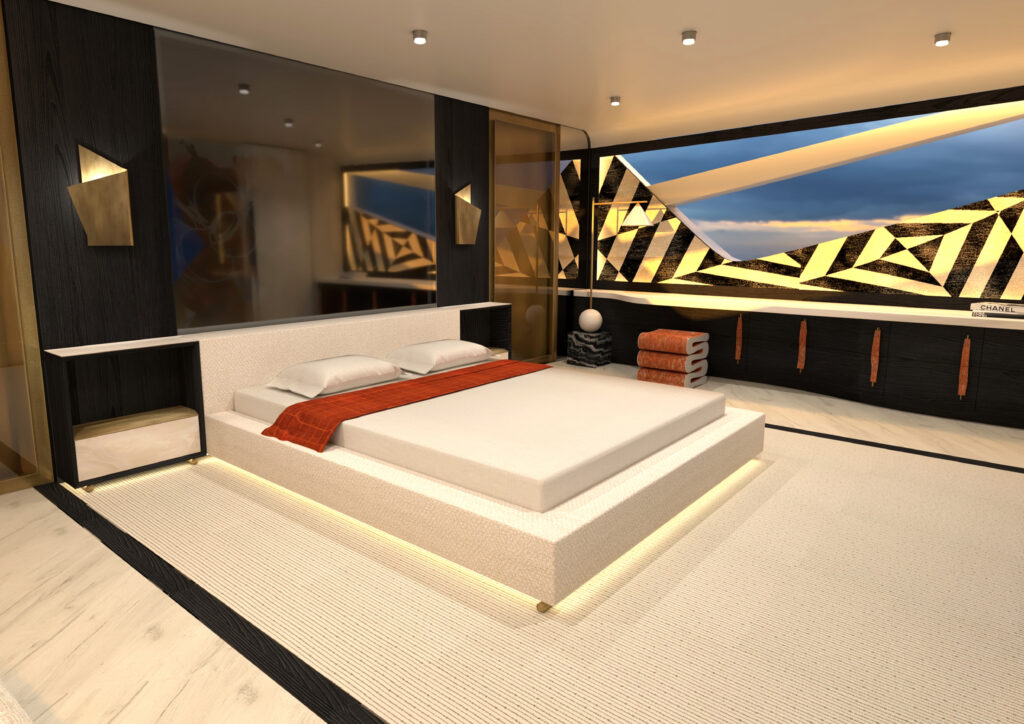 What were your main inspirations for the interior design onboard Infint-e 88?
I'm very interested in sculptural objects and furniture, and beautiful vintage products with 70s and 80s designs of crazy form and colour. We really wanted to create a very interesting interior, drawing from these differing sources of inspiration. I always want to create unique and interesting spaces with my interiors, so I was strongly led by sculptural aspects of the furniture in my interior design process.
What's next for Azurite design?
We are actually currently working on a brand new concept in it's very early stages. Our next concept will hopefully be a new 40 metre yacht, with the idea behind it very similar to Infint-e 88. We still want to create a sleek, clean and sporty exterior, but pair this with a more adventurous interior, blending the lines between indoor and outdoor. With a 40-metre concept, we will have more space for expression than the Infint-e 88 project. This new project has a lot of potential and I think it could be really good, so for now we are focusing on that. We are in the very early stages of design and I find this time to be most enjoyable, doing hand sketches and configuring layouts. We will most likely market this concept within the next 4 months, so there are certainly more exciting times on the horizon.
For Azurite though, I really want to expand the brand and the business. I am proud to be based out of Sydney because not only do I enjoy representing this wonderful city on the global design stage, but with so many concept studios based in Europe our location in Australia helps us to stand out from the crowd. I'm also very proud to be the female Founder of a yacht design company, being only one of three in this male dominated space.
It certainly seems that the future is bright for Azurite design. With the studio having recently celebrated its first anniversary, Azurite is already held in high regard amongst the design and yacht design communities. These interesting ideas, although concepts, could certainly pave the way for the yachts of the future through forward-thinking aspects of both engineering and design.
Tom Baker, Associate Editor