As part of our Design Deep Dive series here at MotorYacht.com.au we had the chance to sit down with Rumeysa Aris of Azurite Yacht Design to discuss the innovative and award winning concept, Infinit-e88, and discuss her successes thus far as an emerging Sydney based designer.
The piece was well received by our readership, and if you haven't checked it out already, you can take a read here.
Since then things at Azurite have only moved forwards, this being the first of many in our new Azurite Updates series, giving you an insight into the inner workings and day to day at an emerging and successful Australian concept design studio:
Azurite Yacht Design is a multiple award-winning Sydney based design studio prioritising the use of environmentally friendly materials with innovative and unique touches in the yacht and luxury design industry, revealing their latest offering, 27m yacht concept Infinit-e 88 in July 2021.
A month after the concept's launch, the studio announced that they have partnered with Sydney based marine brokers, Q7 Marine, to oversee the sale of the 27m electric concept Infinit-e88. Azurite worked hard in building a relationship with Q7 marine and are very excited to be working alongside them.
The existing layout of Infinit-e 88 is proposed as one which is wide and open plan, with a range of high-end furniture, detailing, and equipment. Infinit-e88 boasts maximum levels of quality and comfort and utilises high-quality and sustainably sourced materials. The studio offers a semi-custom exterior design with fully customisable interior design options for Infinit-e 88 to better serve the owner's taste and needs.
The existing general arrangement of Infinit-e 88 offers an alfresco dining area with a sunbathing area forward and a lounge for 6 with a wet bar aft. Moving inside boaters are greeted by a bright and open plan main saloon complete with a full height glass windows and below deck owners are invited to relax in a 30 square metre master cabin equipped with ensuite bathroom and a luxurious walk-in dressing room.
There is also room for guests onboard, with two further cabins, a twin cabin and a guest cabin, also complete with their own bathrooms. There is also the optional space to accommodate up to two crew.
The galley onboard is sleek and modern, equipped with all of the appliances of a home kitchen and enough storage to accomodate for long periods of cruising. Infinit-e88 is also home to a large garage for tenders or water toys that can be accessed from the expanding swim platform.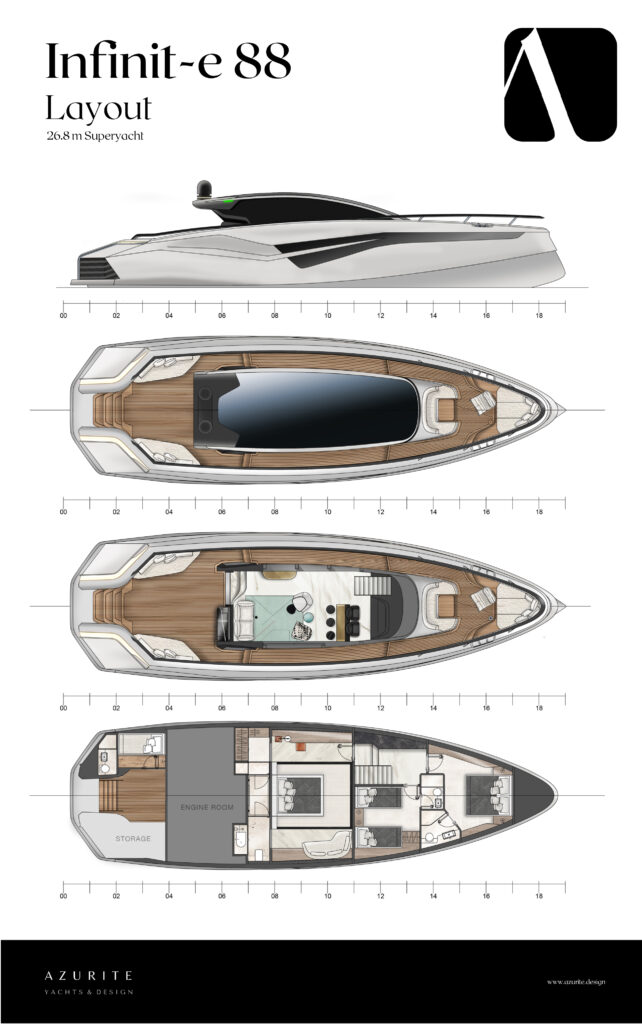 The interior design onboard Infinit-e provides a balanced combination of colour and texture to create a look that is confident, bold and bright. Azurite made use of only natural and sustainable materials like cotton, linen, bamboo, plant based leathers, timber, marble, and wool when designing and furnishing the interior spaces.
The studio strongly believes that designers should prioritise next generation environmentally friendly materials to reduce potential toxic waste and aid the move towards a more sustainable future for the industry as a whole.
Infinit-e 88 is designed to have an electric propulsion system, originally presented by Volvo Penta in 2018 as a hybrid concept for its IPS propulsion system, designed to enable zero-emission operations for boats. The electric-only mode allows for access to environmentally sensitive zones, whilst also improving onboard comfort and boat control. This propulsion system will be available for installation from late 2021.
Infinit-e88 is certainly an interesting and groundbreaking concept, videography of which you can check out here. Stay tuned to motoryacht.com.au for the latest from Azurite Design as we continue to follow them on their design journey moving forwards.