The Viareggio shipyard has a feature unique in Italy: An historic 56m/183.9ft slipway that is still fully operational and most recently used to launch Benetti luxury yacht Lucky Wave.
The Diamond 44m motor yacht is the third of this model to be built, with three more currently under construction. What has made this design so popular is a sharp, classic exterior profile penned by Giorgio M. Cassetta, which includes a sundeck of 102m²/1,098ft² – the largest in its size category. The resulting arrangement allows for plenty of sunbathing space on board, with a large foredeck hosting an alfresco lounging and dining area with a spa pool near the bow.
The fibreglass hull and superstructure achieve a lightweight draft and enhance stability and manoeuvrability on the water, increasing guest comfort throughout their stay. Additional enhancements include various innovations to reduce the overall noise and vibrations from the engines, allowing for cruising through the night with minimal disturbance to guests asleep in their cabins on the lower and main decks.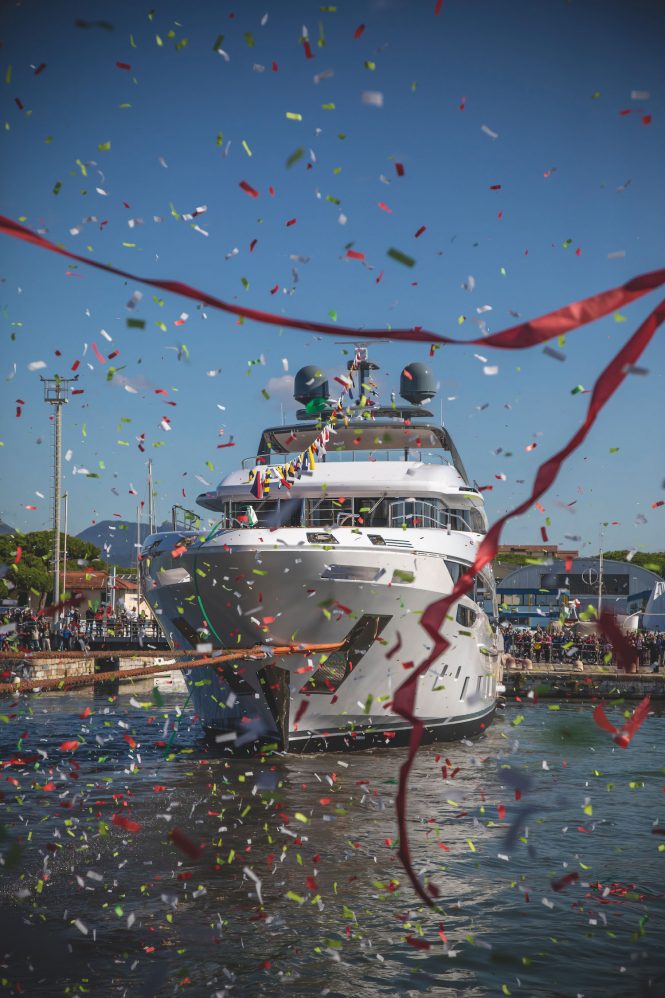 The interiors were designed by the Benetti in-house team and make full use of the natural lighting flooding in through the large windows that connect indoor spaces to the outside world.
The accommodation arrangement for the Diamond 44m sleeps a maximum of 10 guests across 5 en-suite cabins, with the Master suite placed on the main deck forward and the four remaining guest cabins forward of amidships on the lower deck.
The engines provide a transatlantic range of 3800 nautical miles at 11 knots, allowing the Owners of Lucky Wave to travel as far as they please.