The stunning all-new 88 Yacht perfectly showcases Sunseeker's design and technology excellence, fuelled by a passion to create the ultimate yachting experience for all on-board.
By any measure, the 88 Yacht's exterior profile with black feature accents, angular hull glazing and glazed bulwark panels makes it one of the yard's most striking yachts of all time. Its proportions and balance is one of beauty, a statement of intent.
Given its size, it won't come as a surprise that there are an abundance of social spaces, making it the perfect place to spend quality time with family and friends. What is noteworthy however is its flexibility; the vast flybridge enjoys a superb layout with beautifully appointed furniture on the spacious aft deck and the option of an infinity spa bath with sun pad. It's a brilliant space for entertaining with ample places to sit and relax thanks to companion seating adjacent to the helm, and extended U-shaped seating opposite a feature wet bar with everything you could need for a fabulous get together. Owners can also opt for fixed stools to turn this into a lively bar area. The teak foredeck features another private, social space with a Portuguese bridge, ready for owner and guests to enjoy the ultimate yachting experience in secluded bliss.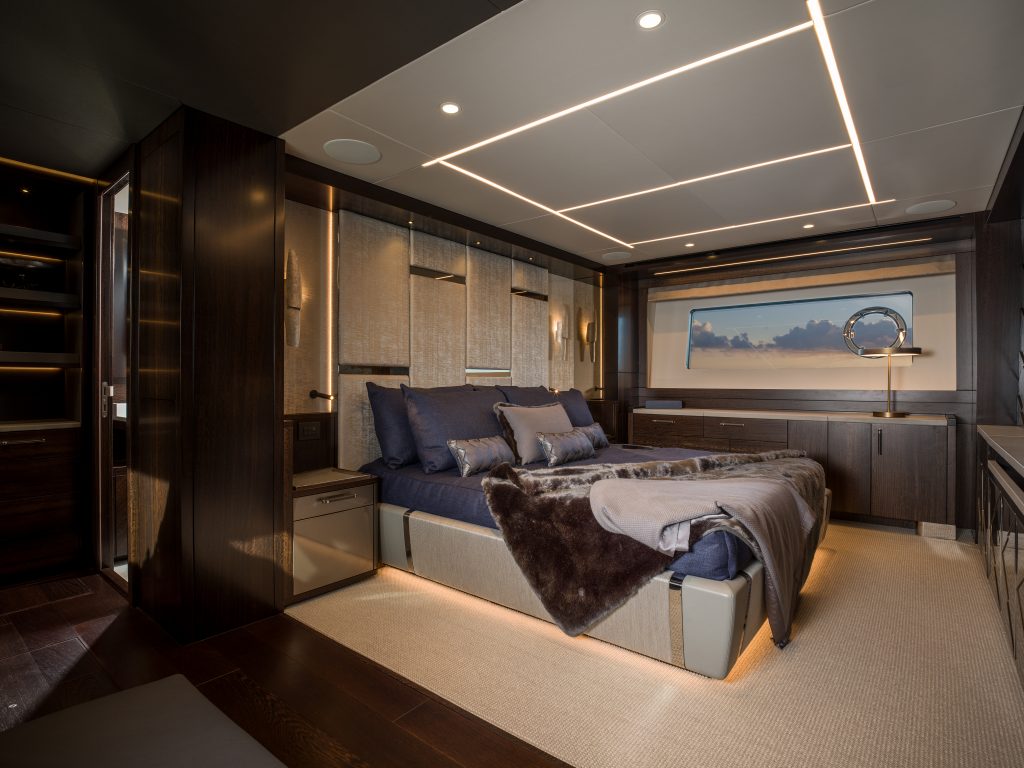 The main deck is nothing short of spectacular. Inside, there is a large forward galley optimising an open-plan space for entertaining. It gives owners and crew an amazing amount of practical storage space, as well as a dedicated fixed breakfast bar unit with two stools, creating an additional informal dining area.
A Sunseeker yacht is crafted with purpose. The 88 Yacht is no exception. She exemplifies the very best in attention to detail and thoroughly considered interiors.
The impressive master stateroom makes the most of her substantial beam. There is a real feeling of 'luxe' with beautiful leathers, fabrics and splashes of mirrored bronze featured throughout. The master stateroom with its 55" TV as standard enjoys a spacious dressing area with a double wardrobe and adjacent en-suite featuring exquisite surfaces throughout, dual sinks, an overhead rain shower and plentiful storage.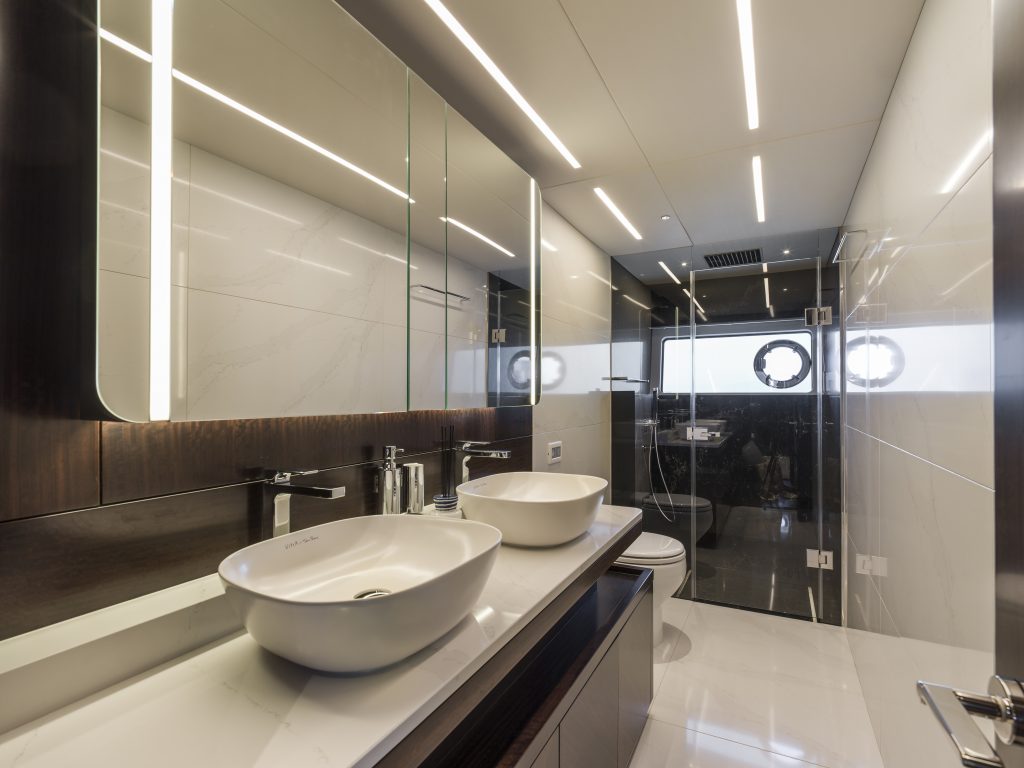 Guests can enjoy a luxurious VIP forward cabin with wardrobe and en-suite, as well as two further double cabins with dedicated en-suites. Each cabin benefits from full height wardrobes and extended glazing with striking new window profiles, with all guests sleeping in the same luxury afforded to the master cabin.
Exemplifying the very best in technical excellence, the 88 Yacht features Sunseeker's X-TEND™ transom seating system that cleverly converts at the flick of a switch, facing rearward at Beach Club level to forward-facing at deck level, offering flexibility to seating arrangements dependent on owner preference. The 88 Yacht is the perfect yacht for relaxing, entertaining and having fun with family and friends in style.
Interiors such as this certainly set the standard for the rest of the industry, the Sunseeker 88 Yacht feeling timeless with a true twist of modernity.