The Darwin Class still is a winning horse for Cantiere delle Marche. The range's character, line, technical features and equipment attract a number of extremely motivated Owners who wish to sail far and wide even to the extreme areas of our planet.
"All explorer yachts built by Cantiere delle Marche are renowned for their ingrained quality and superior technical equipment: they are second to none as for seaworthiness, redundant equipment, robustness of their steel hulls, large engine rooms and generous storage spaces. These characteristics go hand in hand with frugal fuel consumption and extraordinary range. Our philosophy is that 'good enough' simply isn't good enough, especially where long-range, far- flung cruising is concerned," says Vasco Buonpensiere, co-founder and Sales and Marketing Director at CdM."We are very proud of the reputation we have earned over the years, and the market reacts positively to our commercial offer with the new ranges – the Flexplorer and the RJ line – that are exceeding even our most optimistic expectations. As for the Darwins, we can safely say that they actually became a point of reference in the explorer vessels market."
"Due to the Covid travel restrictions it was not possible to meet in person with the client and the overall vessel's customization and contract negotiations were run online," says Carlo Aquilanti, Sales Manager of Cantiere Delle Marche. "The client was looking for a metal boat able to withstand the toughest weather condition and with enough space to allow him to work as well as to continue his training routines. It was clear since day one about what he wanted and Igor Cherentaev of Aberton Yacht proved to be very supportive throughout the process."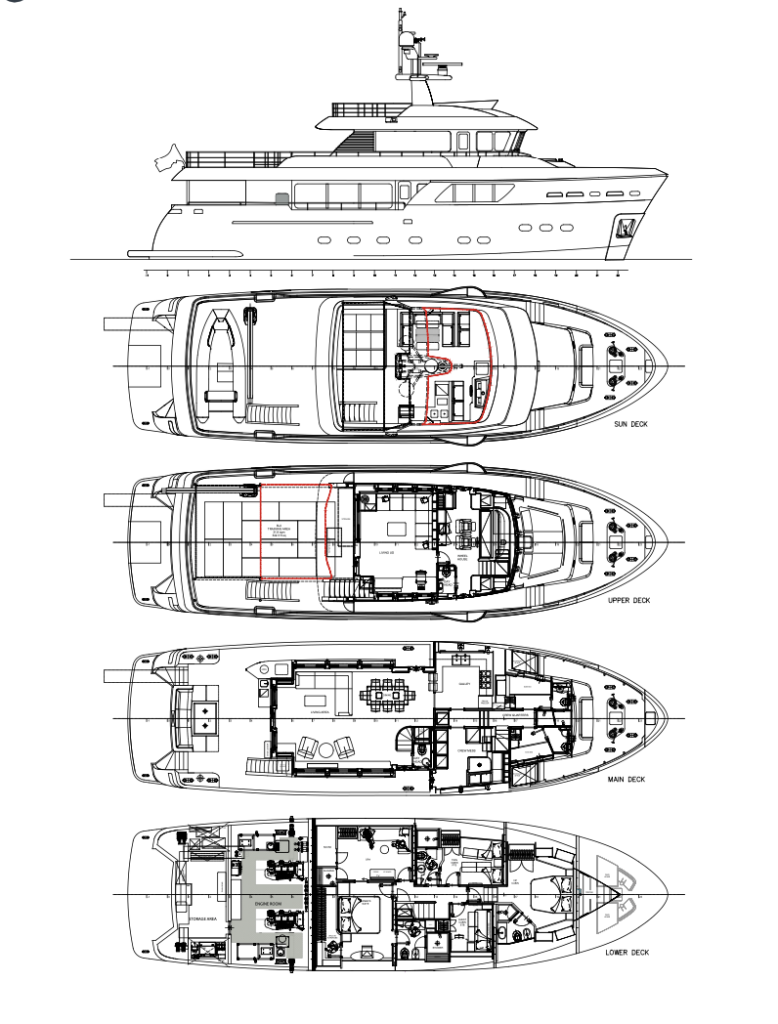 This is the fourth Darwin 86 to be sold since the yard started its activity in 2010. It adds up to a total of twelve Darwins from 86 to 112 feet already delivered or about to be delivered.
This particular Darwin 86 will be a genuine beauty of construction and design boasting the unmistakable Darwin aesthetics by Hydro Tec while leveraging on CdM's unique approach to technical areas. All yachts in the Darwin Class are designed to sail thousands of miles a year and both quality of construction, materials and technical equipment are critical to simplify the yacht's daily handling and upkeep. Using proven high wear equipment in a large and well laid out engine room allows for ease of service by crew and this new Darwin 86 wil be no exception.
The project, customised according to his Owner precise requests, is designed to sail for long periods at the high latitude of the Northern Russian coastline so she will feature enhanced scantlings in the hull and rudders to cope with icy conditions. The Upper deck stern terrace will be built in steel instead of aluminium. All floors will be heated and it will be possible to close the cockpit to allow guests to enjoy the landscape when the outside temperature is freezy. Among the Owner's requests there are also a Spa area on the lower deck, a fourth pilot station on the sun deck, two additional fridges to store garbage on long passages. The new Darwin 86 will feature twin Man engines.
The Darwin 86 from Cantiere Delle Marche is certainly a sight to behold, with it's stark, metal, brutalist hull. The success of CdM globally thus far is something they now wish to replicate in Australia, having recently opened their doors to the Australian market. Despite their futuristic ambitions moving forwards, the Darwin Class is always an apt reminder of CdM's beginnings and a staple vessel from the manufacturer.