Bury Design, a studio based in Victoria, specialise in the design and development of pleasure and commercial vessels. Being an established brand in the Australian and global concept space now for over sixteen years, 2021 has been a resoundingly successful year for them so far, with several interesting concept designs garnering attention from around the industry.
Fortunately, I had the opportunity to sit down with accomplished Lead Designer and CEO, Paul Bury, to discuss two of the latest concepts from the studio, the Global Explorer, and Project Inception.
What is your own background in boating and design and what led to the formation of Bury Design?
I started in yacht design 28 years ago now. I was at University in Melbourne studying aerospace engineering and work experience was an important part of my degree. I had the opportunity to work at a yacht design studio in Sydney called Jutson Yacht design, and since then I have never looked back. Once I'd graduated, I worked at the studio full time for five years, designing ocean racing yachts, crewing sailboats and really immersing myself in the boating scene.
After my time there, I had an offer to do a three-month contract with a design studio in Rome for the structural design of the Pershing 86. I ended up staying in Rome around 6 months, living and working there and becoming more and more familiar with European and Mediterranean style boats that were particularly innovative for the time.
From there I went to Wally Yachts, designing for a year, and following that I worked for Tripp Design in New York, a studio focused mainly on larger sailing boats at the time. I stayed in the US for four years before deciding to return to Australia, and that is when Bury Design was formed. Upon my return I noticed a real shift in the yacht design landscape, with no real work in custom sailing boat design, the market shifting towards power boating and motor yachting. Over time, powerboats came to be more and more of a central focus for us as a studio. Having said that, coming from an aerospace and yacht design background, I always approach any design I am a part of with an eye for efficiency and optimisation and think that can be seen in the two boats we are talking about today.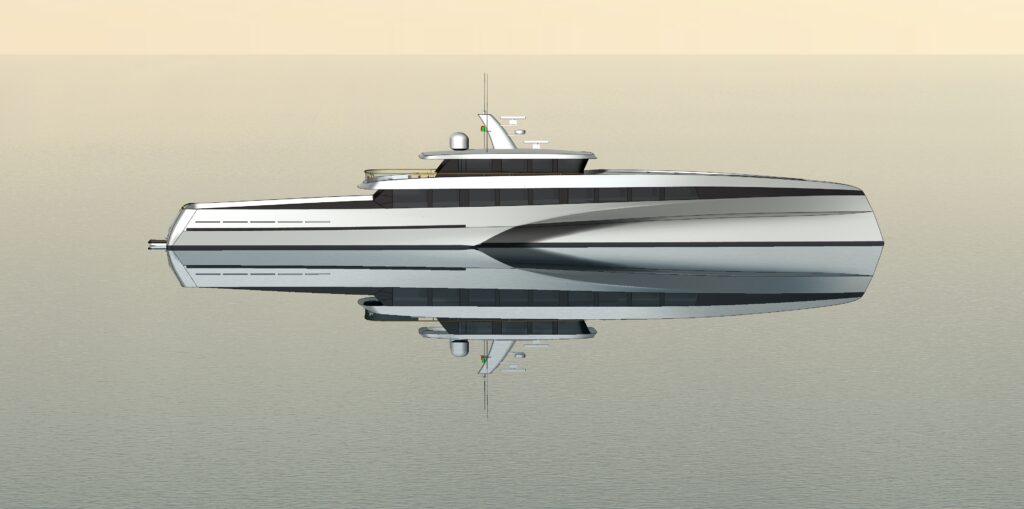 As a studio what are your main focuses when it comes to the design process, and how do you go about starting a project?
We have a variety of different ways to approach projects at Bury Design. With the Inception project and the Global Explorer trimaran project for example, these concepts have been ideas for quite some time, and came as the result of a somewhat circular design path. Experience in designing in a displacement hull form combined with my previous experience in sailing helped in forming these two evolutionary new concepts.
But, more generally, my business is reactive to client needs. If a client comes to me with a particular request, then we sit down and go through their requirements and build up a design brief from there. Then, we start doing concept sketches and work towards a full design. That's sort of a standard design spiral process that the majority of our clients experience, and that approach can be taken on all projects, big or small. Once you understand client needs you can work towards delivering the best solution.
Tell me more about the Global Explorer concept and how it came to fruition?
The Global Explorer was designed for a client. The key focus here was around efficiency and scale, and this focus led us to the trimaran stabilised monohull platform which has proven to be unbeatable in many areas for us previously.
A few years ago, we worked quite closely with a submarine manufacturer in the US, Triton Submarines, to create a global support vessel for their fleet. Here the solution was a trimaran. We also had a client some time back who was looking for a bespoke boutique cruise ship to operate in the South Pacific and we drew up a concept which was again a trimaran.
Ever since, I've always thought of the trimaran hull form as having a lot of merit. We sharpened up the styling for the Global Explorer concept to give it a truly modern feel, with one advantage of the trimaran form, besides efficiency, being the infinite possibilities for styling. It has some great lines and shapes and can become a really outstanding vessel whichever way you look at it.
We coupled this with innovations in propulsion technology and the final product is the Global Explorer, a seaworthy and extremely efficient vessel that wouldn't be possible in either catamaran or monohull configuration.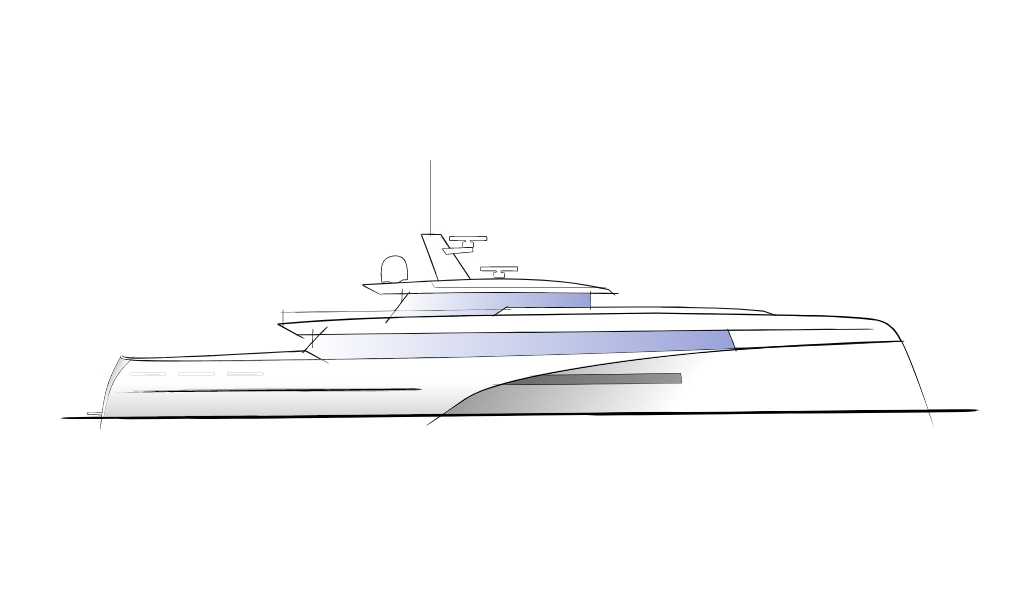 What were your aims when designing the Global Explorer concept?
The brief essentially was to create an extremely power efficient trimaran; and that's what we did. Time is always a limit for every boater, and when you're travelling at 12 knots the world is a very big place. We were aiming to produce a vessel in which you could comfortably cruise at 20 knots, equipped with ample deck space and the stability to operate the various launch and recovery procedures necessary on a modern explorer yacht.
The Global Explorer concept has speed, comfort, seakeeping capabilities and style all in one package, and these features fulfilled the brief we had in mind. People are increasingly interested in Explorer style boats, with their long narrow bow configurations, both in the pleasure and commercial sectors.
The trimaran is essentially a more efficient version of this, in a better plan form and an overall more versatile concept than a monohull. The market currently is a little more progressive than it was five years ago, and I think that's why the Global Explorer has been so well received.
What are the standout features of the Global Explorer?
The truly impressive feat of engineering here is the ability for such a large vessel to cruise at 20 knots for a very large number of nautical miles.
We did some powering numbers when we were designing and used some common courses that you might plot onboard the Global Explorer, and it really is amazing what you can do. For instance, cruising from Tierra del Fuego to Antarctica is possible in just 27 hours. You don't have to spend a month at sea and, if you choose the perfect weather window, you could cruise the 600 nautical miles comfortably at 22 knots. A trip from the UK to the Bahamas would take you just 6 days. Suddenly the world begins to feel a lot smaller.
So, in my mind, this is really the standout feature. Of course, it is also a great platform for styling and accommodation, layout, and deck space but that ability to go fast at sea for long distances is just unparalleled.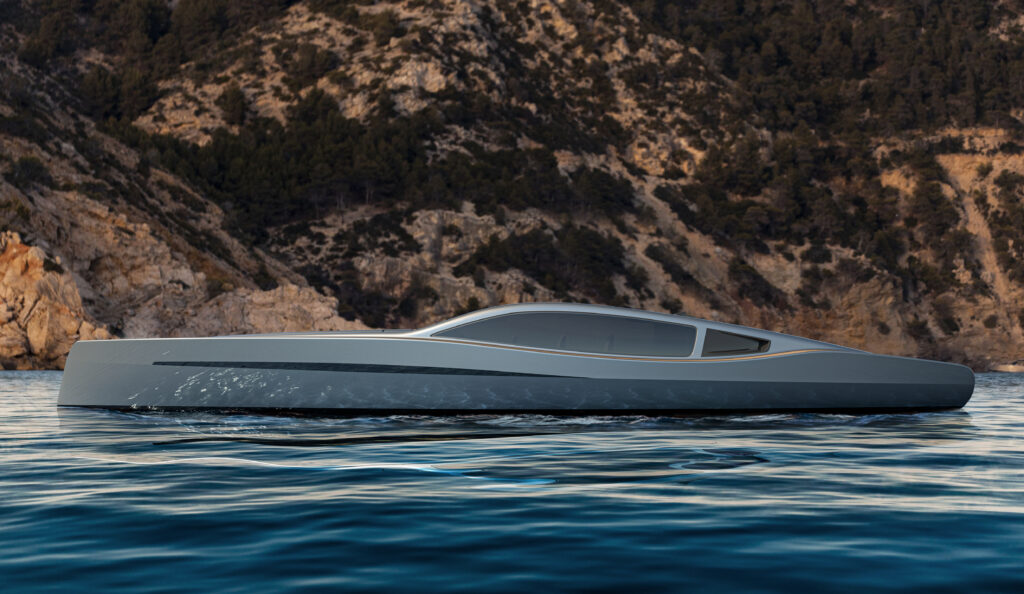 What guided your decision in moving from a 57m trimaran concept to a 24m project that is markedly different in many aspects of its design?
Visually it is completely different yes, however there are some similarities. In many ways again you can see my deep history with sailing boat design, and at its core the Inception project is again about efficiency.
The trimaran configuration is great as I've mentioned, however it's not scalable and really is limited to bigger boats. The Inception project comes with a different set of design parameters and comparatively it's more of a sports car if the trimaran was the SUV.
Inception is really about comfort, and performance; it's not designed to traverse the Atlantic as the Global Explorer is. The hull is not dissimilar to what you see in ocean racing yachts nowadays, with a similar lightweight and efficient form.
It seems commonly thought now that to reach 25 knots in an 80ft power boat you are obliged to put massive amounts of horsepower into the water, whereas in sailing racing yachts this is something that is possible with just sail power. The aerodynamic nature of project Inception certainly stems from my career in sailing design and aerospace engineering, and we approached the project from a different angle, considering efficiency and weight, and we think the end product is truly impressive.
What were your main design inspirations behind the Inception concept?
Automotive design certainly played a role, taking inspiration from the Ferrari California amongst other models. The sheer line kind of drove the design process largely. I played a lot with the proportions of the bow and experimented with the overall waterline length and the feature windows. I imagine the Inception to share that functionality with the automotive industry in a sense, with large modern windows and a vast sunroof that ideally is retractable, leaving you with a sort of convertible feel.
Also, over the years I've spent a lot of time in Europe at a variety of European and Mediterranean shows and I could certainly see the Inception fitting in nicely on those waters. It also has the potential to be adapted as a tender for a much larger superyacht, allowing the owner to arrive at port in style.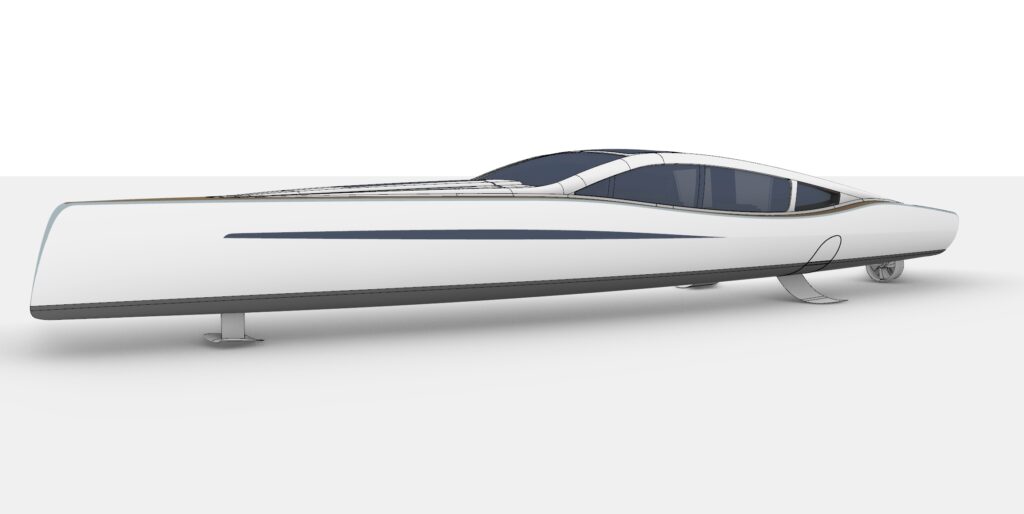 With electric and hybrid models becoming more and more commonplace, do you see a future for this technology in yachting?
I feel that currently we are in a rather difficult transition period, especially if you're a well-established brand. If you are developing a larger vessel that relies on horsepower to perform then unfortunately, electric currently is not going to suffice. Right now, an efficient diesel vessel is the best value for money both for builders and consumers.
The benefit with Inception, however, is that she has a very high efficiency hull that doesn't require enormous amounts of horsepower. So, in this instance, diesel-electric is well suited, futureproofing the vessel for when electric inevitably becomes the more efficient and affordable option.
We're also working with the manufacturer of hydrogen fuel cells right now, a new innovative technology like that is not without its difficulties, but I believe it will eventually revolutionise the way we travel. It's not so much if it's going to catch on, it's when. Electrification of the marine sector is inevitable in my opinion.
Do you have an owner profile in mind when designing a concept like Inception?
Yes, to an extent. As I said, I've previously spent a lot of time in Europe, particularly in Monaco, and I could certainly see Inception fitting seamlessly into several European manufacturer line-ups. I could also see Inception as an uber practical Mediterranean dayboat, and I feel it would fit well into that sort of market too.
I have had some interest from North America, but the European and Mediterranean market is really where it was targeted. I could envision it being used by an owner to go for a week to Sardinia, or a weekend in St Tropez – those casual European sorts of uses. It isn't a vessel you live aboard for a month.
What's next for Bury Design?
We are working on a lot of interesting projects right now. We are working on a 52-foot sailing catamaran for a builder in Queensland which looks very promising. We're also working on a very interesting 12-metre ultra-lightweight composite dayboat project that is designed to be built extremely quickly. Again, it is centred around efficiency and performance, and it is probably something we would hope to bring to market next year with a builder from Queensland as well.
We're also working on a range of power catamarans called Vapor Cats, the 5-metre version of which is currently under construction in Thailand, and the design process for the 7.5-metre version is expected to commence later this year.
So yes, across the board a number of similar things to what we have spoken about today but also some very different and unique projects on the go too.
END
An insightful and interesting conversation with a truly established Australian based brand in the global design field. Bury Design continue to innovate and move forward whilst still remaining loyal to their key design values.
The studio persistently displays important ingenuity, utility, and efficiency in all aspects of design and are showing no sign of stopping for the remainder of 2021.
Stay tuned to motoryacht.com.au for more from Bury Design and the rest of the yacht design world moving forwards!