Franz Bose says the reaction of guests is always the same, every single time. They start their charter aboard the Silent 55 near Palma de Mallorca, in Spain's Balearic Islands, and feel the same way they felt the first time they experienced the emission-free ride of an electric car.
"They can't believe how quiet it was," says Bose, who is the chief marketing officer of Silent-Yachts. "They couldn't believe how much you are able to do with the boat without turning on the generator. With our yachts, you have a backup generator, but you only need it on very rare occasions: when you want to cruise longer distances or go faster than the regular cruising speed. People are amazed at how little during a charter week you have to turn on the generator."
The Silent 55 is one of numerous yachts now available for eco-conscious charter in the Mediterranean, with bookings expected to continue well into October this year, as the world resumes more normal travel amid COVID-19 restrictions easing up. Some charter yachts, including the Silent 55, are being marketed in terms of their construction attributes, while others have owners working on things such as adding electric water toys to existing charter programs. Numerous companies, including Y.CO and Fraser, are offering clients the option to purchase carbon-offset credits for bookings and, in some cases, are giving guests hotel-style onboard options of only changing stateroom sheets every few days to save on power.
"Some clients are very, very happy to do this," says Quentin Bourgeois, a charter manager with Fraser. "They know it's not good for the Earth."
One of the yachts Bourgeois markets in the Fraser charter fleet is Haze, an Extra 86 with solar panels that minimize generator use by providing the power for things such as small appliances. This means that clients who are eager to limit their ecological impact can cruise in a way that requires less generator use overall.
"As a guest, it depends on what you want to do," he says. "If you need a lot of electricity, yes, you will need the generator. But if you are on the aft deck enjoying life, you don't need the generator."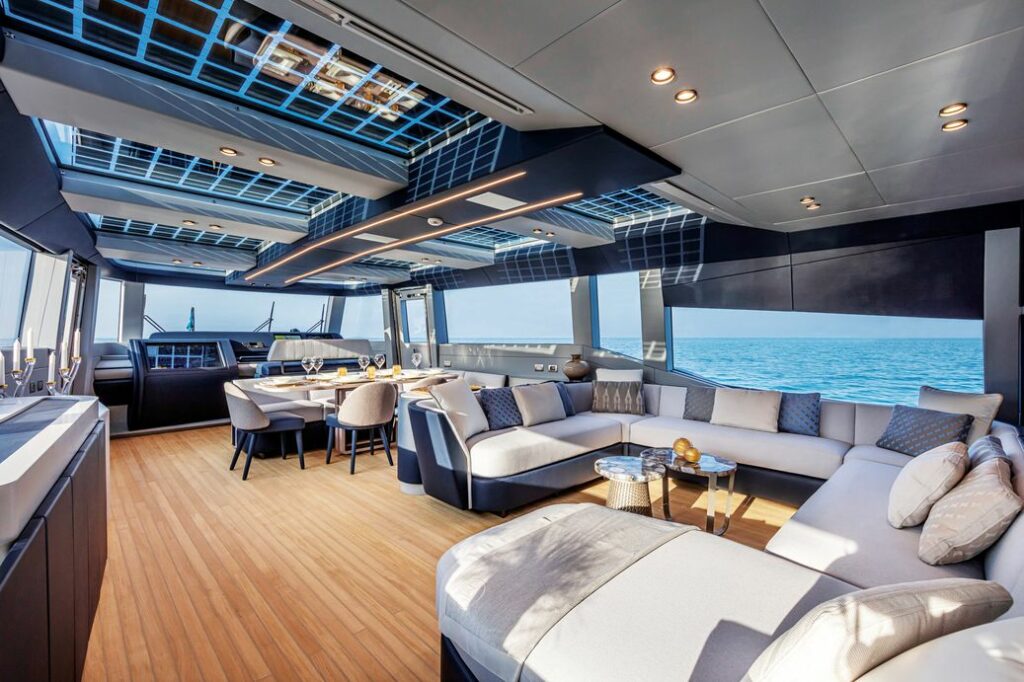 Inside, he says, the solar panels add even more natural light in a way that clients with more modern tastes find pleasing.
"It's a lot of windows, and the solar panels are quite small," he says. "The light comes in between all the squares. It's quite cool. You are protected from the sun, but you still catch the sun and have all the natural light."
Yachts in the Fraser fleet without solar construction, such as the 109-foot Lynx Robbie Bobby, have owners working in other ways to make charter programs more eco-conscious. That yacht is already better on fuel than many traditionally powered yachts its size—burning about 38 gallons per hour, according to charter manager Alexia Eude—and the owner is adding elements such as S'well reusable water bottles and electric-powered water toys to the program.
"That boat used to use plastic bottles and have them everywhere for guests, and now you won't find a single one on board," she says. "They did this all of last summer, and everyone found it very practical. And they're super-happy to have a nice souvenir."
More eco-friendly charter yachts are expected to hit the market in coming years, as more owners receive delivery of them from shipyards. Bose says that while Silent-Yachts currently offers its charters to potential buyers of its boats, that's going to change in the next year or two. Nearly 20 of the Silent 60s have been sold, and 10 are under construction. Five of the builder's Silent 80s are also being built.
"Next year and two years from now, there will definitely be more Silent yachts available for charter in the Mediterranean and also in the Caribbean," he says. "The selection will grow for people who would like a traditional charter on a Silent yacht. Some of our customers want to get their boat into charter."
That increase in inventory is important, he says, because right now, more people want to experience solar-powered cruising than the company has boats available.
"People who are used to chartering catamarans, they have tried motor catamarans and sailing catamarans. This is common," he says. "But the solar-electric catamaran is something new. People are interested. They would like to try it out. For now, there are not that many to charter."
Bourgeois says more of his clients too are asking about a yacht's eco-friendly characteristics before booking. They like the fact that Haze burns 42 gallons of fuel per hour while cruising.
"Compared to most other yachts, you will burn less fuel. That means less carbon emissions, which is great for health and the sea, and you will have less hours on the generator because you will be able to use the solar panels," he says. "For young, dynamic families that don't need the huge yachts, this is something that's eco-friendly and comfortable."