World renowned masters of boat building Fleming are now very close to releasing their largest flagship to date in the Fleming 85. With decades of combined experience both designing and cruising, Fleming Yachts are now aiming to deliver what will be widely considered the ultimate cruising yacht.
With incremental improvement and consistency both being central aspects of the Fleming philosophy, their latest offering is expected to be the finest possible ocean-going pilothouse motor yacht to date in every respect.
The F85 is certainly an interesting prospect for Fleming lovers and motor yacht enthusiasts alike. Fortunately, I had the opportunity to discuss this exciting upcoming release with Adi Shard, Designer on the F85 team, to gain insight into the lengthy design process behind this highly anticipated cruiser.
What were you aiming to achieve with the F85 from a design perspective when looking at previous Fleming models and other vessels from around the market?
Firstly, we wanted to retain the classic Fleming lines and look, a template which we haven't strayed too far from with any of our models. But also, we knew our aim was to create the finest passage making yacht that we possibly could. This will be the biggest boat built by Fleming, both physically and metaphorically speaking; it is our flagship, so we want to make sure that it is the best in every respect. Therefore, we have a pretty short options list for the F85, and that is because we wanted the standard spec to include everything you could want and need onboard a class leading cruising vessel.
Another key aim with the F85 was to try and make this the most fuel-efficient semi-displacement hull on the market, ensuring that we have real ocean crossing range. This is obviously something achievable in every Fleming, however the F85 will have larger fuel tanks and a super-efficient hull. With this yacht being of a larger size, we wanted to make sure you really can cross oceans without having to refuel, and really go anywhere you desire.
What were your design inspirations when it came to the F85?
Being part of an established brand with a rich history, fortunately we don't have to look too far for inspiration when it comes to design. As well as drawing from external inspirations, much of our inspiration was taken from within our brand, initially through collaboration with existing Fleming owners. Over the years we've had a lot of repeat customers who've had several boats, up and down in size throughout the range. There is so much experience amongst our owners from all over the world. Experience that proves to be extremely valuable when starting on a project like the F85.
Our dealers are also very established and knowledgeable, so there is a great deal of experience to draw upon there as well. We drew a lot of inspiration – as much as we could – from our existing customers and dealers and from our own personal experiences within the Fleming brand.
Of course, Tony Fleming as well, all be it retired, is still cruising in intrepid places, and feeding back valuable information. A lot of that feedback is considered throughout the design process. We also endeavoured to stay true to our principles, making sure that all the systems onboard are – from an engineering and technical standpoint – as good as it gets. Like I said, we wanted to build the best boat we can, and we are serious about that. Design at Fleming is not contained to a budget, it is really a question of how we can exceed expectations from every angle, so that the quality of the components installed, and the systems designed make cruising an easy and hassle-free experience for the owner.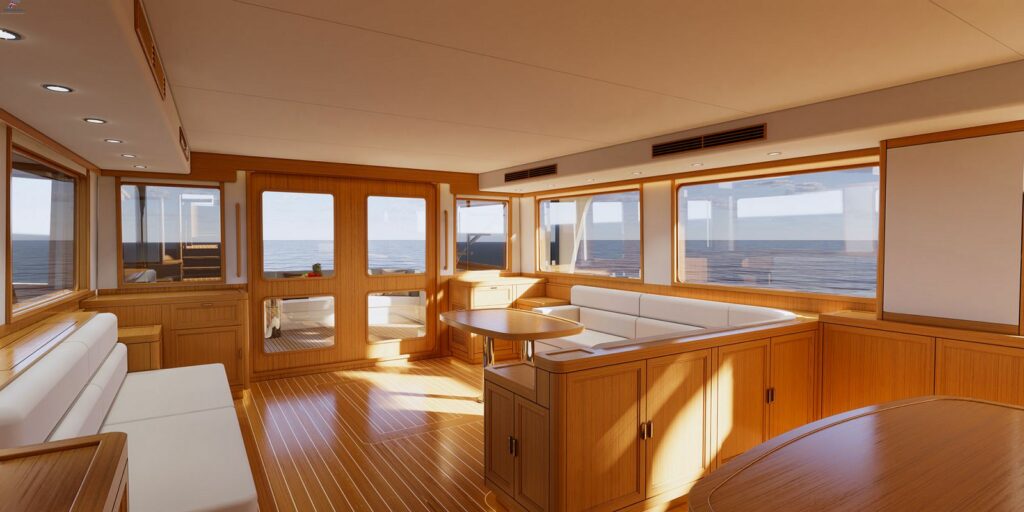 Were there challenges in improving from previous Fleming iterations?
It is always challenging to top our previous models, because each model in its own right is the best that we can do with that particular model at that particular time. So yes, it is certainly challenging in ways to strive for improvement, but it is something we always strive to achieve.
When you start with a clean slate, there are opportunities to do things you can't necessarily do with existing models because the production process there is already finalised. We are of course constantly tweaking existing vessels, but it is difficult to make large sweeping changes without disrupting production.
When you build and design a new model however, you are in many ways liberated to do things you've maybe been wanting to do on other models but haven't been able to get into production. The process can actually be rather more liberating than challenging because you have the opportunity to try new things that have been on the drawing board for a while. There is more leniency when it comes to new design because there are no limits.
Who would you say the F85 is designed for?
Honestly, anybody who is serious about going boating and anybody who knows and appreciates serious boats. There are a lot of ex-sailors that come our way because I think [our vessels] are a little more attractive to the sailing community than most other yachts, Fleming having those traditional and classic lines. Probably 60% of Fleming yacht owners come from a sailing background at some point in their life.
We also have a large number of new owners who are moving down from larger yachts. With all Flemings designed to be owner operated it gives new owners a sense of control and empowerment on the water, especially if they're used to those larger yachts.
Really though, the F85 is for anybody that has a sense of adventure, who wants to not just go day boating, but really live onboard and go to places that you might not have dared to go before. Flemings are designed for making trips that you might not make in a lot of other vessels on the market. You can be a little bit more intrepid.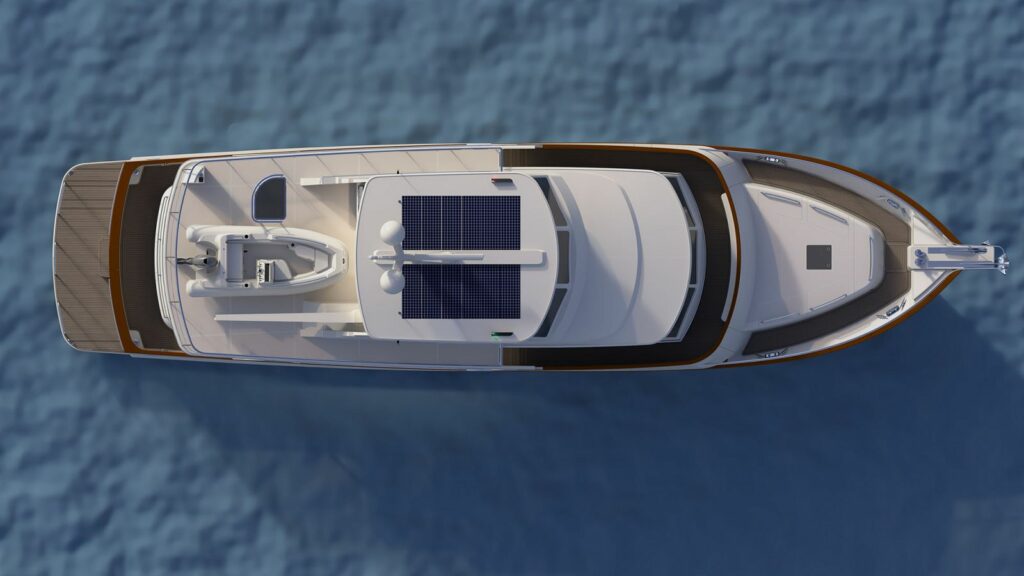 How is the F85 suited to the Australian market?
It is difficult to say how it could be suited to a particular market as I think really it could be suited to any market. Specifically for the Australian climate though, we all know how intense the sun can be, so there is plenty of shade on all levels, on the aft deck, and up on the flybridge. In the same vein, we also make the most of that sun, with a large swathe of solar panels on the hardtop as standard. These panels charge a lithium-ion battery bank so you can run on solar energy for several hours without needing to run a generator. That is certainly a nice new feature.
Also, if you were wanting to cruise from East coast to West coast, this boat can handle it. The F85 is CE category A Ocean Class, with structure approved by DMV, so high seas would not be an issue and the F85 is equipped with the range to do it. If you wanted to go over to the islands, the F8 is completely self-sufficient, everything has a backup, you could be out on your own for a month or two with no problems. There's also plenty of refrigeration onboard so you won't run out of beer!
I would say however that really the F85 is truly international and can be suited to hot and cold climates in all conditions. Double glazing is standard on all doors and windows, providing thermal insulation from the heat or the cold.
What's brand new on the F85?
I mentioned the solar panels already. The boat is also equipped with Humphree stabilizers, these are electric rather than hydraulic stabilisers, made by Swedish manufacturer Humphree. They're going on our other boat models as we speak, so they're not brand new but they're pretty new for the market in general and certainly a cool feature.
With the F85, we also have the all new enclosed flybridge version. Rather than having an open flybridge with a hardtop, the flybridge is now a completely enclosed fibreglass structure. Therefore, the pilot house is moved up onto the top deck, and where the pilot house was on the mid-level becomes a large galley and dining area. This creates more space on the lower level, which has now been designed as an even larger salon and entertainment area. The enclosed flybridge is definitely a spacious and exciting new option.
We also now have a hydraulic swim platform for a small tender or jet ski on the F85. Tenders on a Fleming would usually go up on the flybridge, with a lot of our owners preferring large tenders and dinghies. Resultantly, as standard on the flybridge model you have a 1000kg crane for lifting large tenders up and down from there. But the swim platform, allows you then to have another smaller tender, a runabout or a jet ski.
The design team have also expanded the existing monitoring and control system, each cabin now equipped with a multifunctional touchscreen panel. These displays will give you information and feedback about the system and a summary of what's going on onboard, but also give you control of cabin lighting, air conditioning, powered blinds, and any other F85 systems. Features that would normally be controlled with a set of switches can now be controlled via a touchscreen next to the door or next to the bed. As a result, the F85 feels more streamlined, reducing the number of fittings and making everything clean and minimal.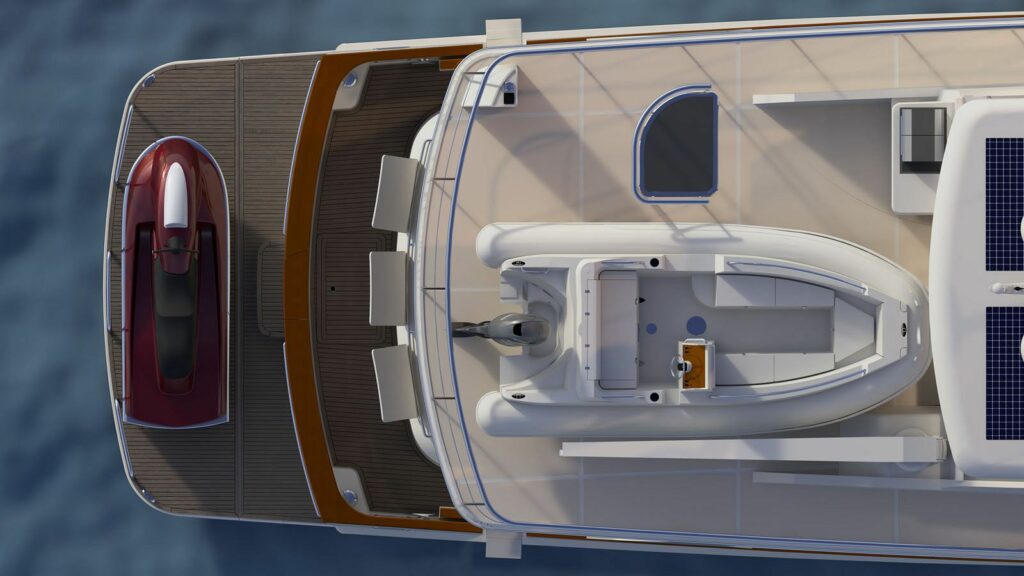 How would you say the F85 has moved the Fleming brand forwards?
The F85 has opened Fleming up to new customers, whilst at the same time appealing to our repeat buyers. Infact, one or two of the first few F85s are going to existing Fleming owners. But then hull number 2 is going to a new customer that we haven't had before. Our customer base is expanding. I would say this may be as a result of the larger size, and perhaps the enclosed flybridge has made a difference as well, because that is something we have been asked about before on previous models and never been able to offer.
Fleming is known around the world for having true ocean crossing range. What is the range on the F85?
Hull number one is still under production, so we are still some way from sea trials, but we did invest quite a lot in the design phase with CFD (Computational Fluid Dynamics), refining the hull and studying it in different wave states and speeds to get a sense of efficiency. We are expecting a top speed of around 25 knots with the larger engines which are 1800hp. At lower hull displacement speeds we are expecting a range of over 4000 nautical miles.
Fleming are masters in reiterating and refining functional design, in large part aided by the journeys of Tony Fleming. How is that Fleming philosophy continued with the F85?
Every time we make a design change on any of our models or when we are designing a new model, we pull all of that knowledge, experience, and feedback together. When you're designing anything, from the smallest aspect of the boat to the largest feature, you're drawing on all those years of experience and feedback from us as designers and builders, from Tony himself, through to the owners and dealers. Every time we design, we aim to improve, constantly endeavouring to iron out any creases, and we are doing this repeatedly. The great thing about boat building is that you can make design changes quickly and introduce them into production; much quicker than you could say in the automotive industry. With boat building it is so much more hands on and custom, you can introduce changes immediately if warranted.
These has always been a strong focus on safety and redundancy onboard Fleming vessels. Is this focus continued with the F85?
Absolutely. There's basically two of everything. It starts with the obvious two engines, two gensets, two windlasses, and so on. But we have covered all bases with the F85's design, every system also being equipped with two pumps for example. In practice you only need one, and obviously we carry the best one, the heaviest duty one available. But there is a second pump already plumped in, so if for whatever reason the first one does fail, with the flick of a switch and the turn of a valve the second pump is immediately online. We continue that kind of philosophy throughout the electrical system, with almost every component of the F85 having a backup.
Did COVID in anyway hinder the production of the F85?
Well yes and no. We were very fortunate based in Taiwan that, like Australia, we were initially largely unaffected by massive COVID infections. Whilst school was shut for a few months, most work carried on as normal, so we continued to work hard and build boats throughout that time. The biggest issues really were with parts and delays to inventory and the cost of shipping, but in terms of getting on and getting the boats built we've fortunately been largely unaffected.
END
It is safe to say then that Fleming have all bases covered with the upcoming F85, staying true to form with their latest offering.
The F85 embodies everything the Fleming brand and philosophy stands for, from classical exterior design and rugged construction to tireless testing and expert efficiency. Design at Fleming is certainly a lengthy process, as with the construction of any ground-breaking vessel, but I feel the F85 will fill owners with satisfaction once delivered, Fleming proving once again to be masters of their craft.
Tom Baker, Associate Editor