Taiwan-based yacht builder Horizon delivered its newly-launched FD80 Parabolic to its owner. This significant occasion was marked with a private ceremony at the builder's marina office located on Florida's southeastern coast in Fort Lauderdale.
Horizon's latest FD80 was sold in September during construction to a first-time yacht owner and is the fifth hull of this model. Christened Parabolic, the new 80-ft (24.5-meter) motor yacht has a four-stateroom layout and an enclosed sky lounge configuration.
It has plenty of open spaces and floor-to-ceiling glass areas across the rooms, making the interior seem bigger, almost like it blends with the exterior. This configuration also allows guests to enjoy spectacular ocean views from the salon, dining area, and on-deck master stateroom.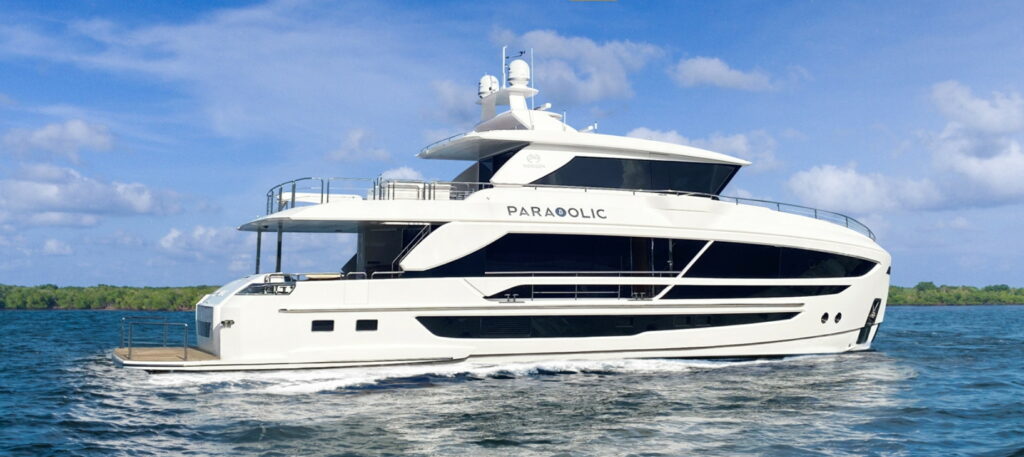 Speaking of the salon, it features a seating area that has an elegant leather sofa and a convertible dining table. Three more guest-rooms, including two VIPs, equally as elegant, are located below deck. There's also has a beach club and a garage with a large window included, which lets natural light fill up the whole space.
The upper deck was customised by the lucky owner. It comes with enough space to host two jet skis and a jacuzzi that has room for up to six guests. It also has a bar area, offering the ultimate fun on board. In addition, he transformed the enclosed skylounge into a wheelhouse, complete with twin helm chairs ahead and an L-shaped seating area aft.
The owner also worked with Horizon's team to select the decorative elements of the yacht. Blue, green, and coral make up the aesthetic of the Parabolic. Paired with features representing both the earth and the ocean in a balance, the décor symbolises "life's infinite cycle."
In terms of performance, Parabolic is equipped with two 1,282 hp MAN D2868LE466 V8 diesel engines (the series comes originally with two CAT engines capable of delivering 1,136 hp each), which take it to a top speed of 20 mph (32 kph). Upon taking delivery, the owner plans to put the vessel's capabilities to the test by venturing to the Bahamas.