Riviera implements greater resin infusion on a large scale in the creation of the company's acclaimed motor yachts.
Resin infusion, a technology that dates to the middle of last century, has progressed in leaps and bounds in the past 20 years and with that it has been adopted by the aviation and marine industries for creating high-strength, lightweight components.
It is an intricate, highly controlled boatbuilding process that has been an advancement 18 months in the making for the Riviera technology team. Most new Riviera yachts enjoy infused components, all with outstanding results, so Riviera has committed to using infusion in all new models.
Resin infusion places a porous material, for example fibreglass laminates or foam core, in a sealed environment. Vacuum pressure is then applied to remove air from the laminates or core. Once a vacuum has been established, liquid resin is drawn in. It is also known as vacuum resin infusion.
In the construction of a flybridge, for example, a layer of impermeable material is secured over the mould, dry fibreglass laminates are positioned onto the mould and vacuum suction is applied.
Ensuring a 100 per cent seal for a vacuum requires meticulous attention to detail from the team. Once technicians ensure there are no leakages, the resin is allowed to be pulled into the laminates through a number of carefully placed tubes that deliver an even flow throughout.
Cure time for the resin to 'gel off' is an hour. Parts are left to cure overnight before further processes proceed. These are similar timeframes to the traditional methods of laminating.
Each mould is then inspected, cleaned and waxed before the initial application of isophthalic gelcoat is sprayed to provide a high gloss and superior water and fade-resistant finish. Isophthalic gelcoats prevent water absorption and deliver added strength and durability to hull designs.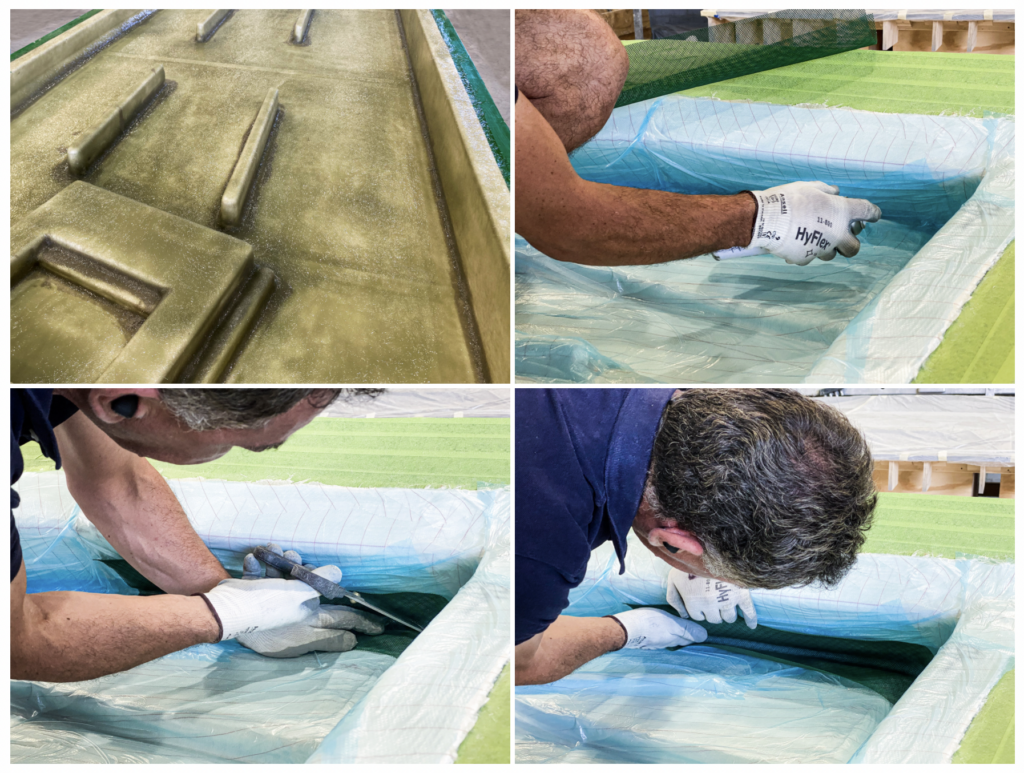 While having proved themselves for more than 40 years, moving away from fibreglass chopper guns significantly reduces waste. By comparison, infusion is a clean and efficient process of composite material manufacturing.
It is a very controlled process, using a pre-determined and predictable amount of fibreglass and resin each time. This precision allows for as near as possible an ideal one-to-one ratio of fibreglass to resin, and this results in a strong and light composite material. It means that key components can be manufactured to engineering specifications and meet weight requirements. Components utilising resin infusion are approximately 30 per cent lighter.
The economic realities of efficiency make this a compelling technology to use – from the boatbuilding process to its end use on the water.
Resin infusion is being employed on Riviera motor yachts from the top down, thus reducing weight in the superstructure for an even more stable ride. Primarily it is used for hard tops, flybridges, bulkheads and swim platforms.
The resin infusion process also uses engineered foam cores to reinforce the laminates. This is the most suitable material for the marine environment and, unlike timber, will never deteriorate. These foam cores are CNC (computer numerical control) machined for precision to ensure that each component fits perfectly.
As with the implementation of all innovations, the team's entry into resin infusion has been measured and controlled. Ultimately, it forms part of Riviera's ethos to employ the finest boatbuilding methods possible to give owners a superior luxury motor yacht.