Italian shipyard Riva Yachts says the first hull of the Riva 56′ Rivale Hard Top edition – an evolution from the open, express version – is now with its owner in American waters.
The Riva 56′ Rivale Hard Top follows production on the Dolceriva Hard Top, as Riva continues to grow its Open range of boats. Design is by the Product Strategy Committee led by Piero Ferrari, with designer Mauro Micheli of Officina Italiana Design and the Ferretti Group Engineering Department.
Carbon-fiber detailing is on the hard top, which is black and fixed. It covers the center section of the yacht, including relaxation areas. Optional air conditioning is built into the structure, and awnings can be added to cover the cockpit and forward lounge.
Exterior features on the yacht include a stern garage that houses a Williams Turbojet 325, a swim platform that submerges for easy guest entry into the water, and a sun pad at the bow.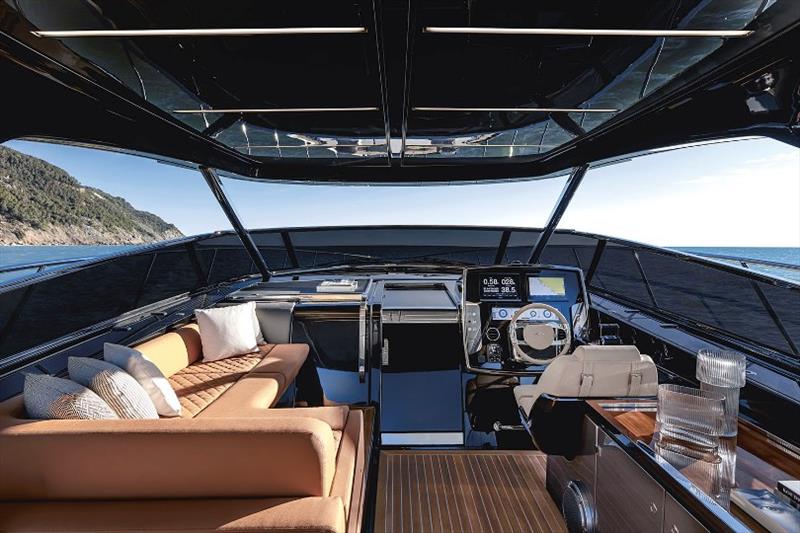 Inside, there's a glass skylight, a day head, and a galley to port with mirrored walls that conceal a TV. Three ensuite staterooms are belowdeck, with the third stateroom replaceable with crew quarters.
Design successes are matched in the performance department as according to Riva, the top speed is 38 knots with a pair of optional 1,200-horsepower MANs, and the cruising speed is 34 knots.
This extraordinary yacht combines meticulous attention to detail with the finest materials, and distinctive features of the brand right from the outset, ranging from polished mahogany for the interiors to teak for the exteriors, and from lacquered surfaces to mirror-finish stainless steel and fine leather, the 56 Rivale certainly seems to have it all.