2021 has been another resoundingly successful year for Australia's leading luxury motor yacht manufacturer, Riviera. With widespread success both in terms of shows, releases and announcements, one model that has received unprecedented attention since it's release back in May is the Riviera 645 SUV. Fortunately I had the opportunity to sit down with Riviera Chairman, Rodney Longhurst to take an in depth look at one of Riviera's most popular vessels this year.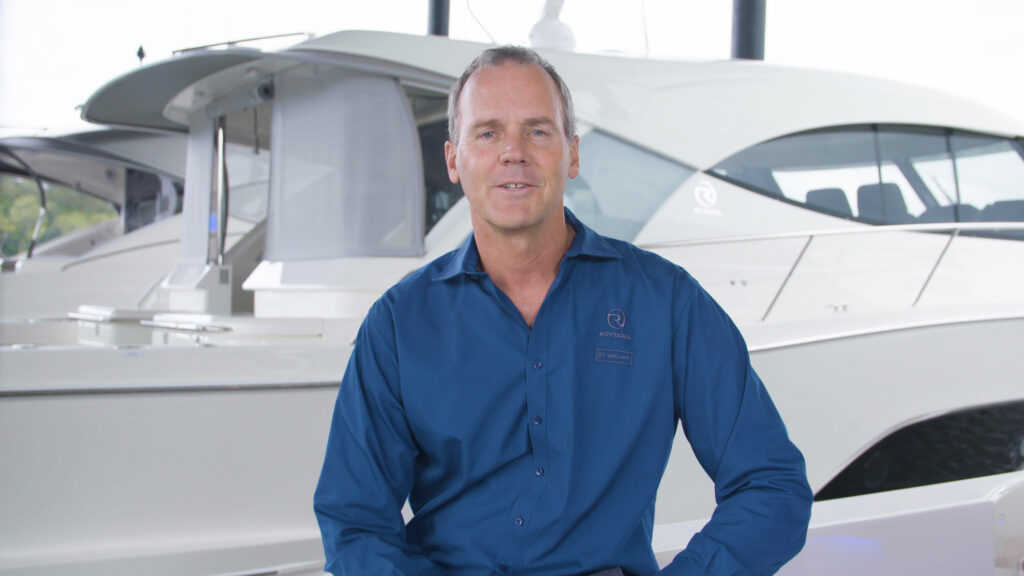 What were you aiming to achieve with the 645 SUV from a design perspective when looking at previous Riviera models and other vessels from around the market?
The international popularity of our SUV collection inspired our team to create a flagship model with greater accommodation and living spaces, as many of our SUV owners are wanting to move up to a larger yacht and spend more time aboard cruising further afield. Thus, we sought to build a motor yacht with more amenity and more luxury, while adhering to the principles of our SUV design. The result is a magnificent luxury motor yacht that is well rounded and that can readily adapt to any style of boating or water sports pursuits.
The 645 SUV was born to be a single-level motor yacht that can make an elegant statement whether moored at Catalina Island or, in her more adventurous mode, reeling in a fresh catch off the Great Barrier Reef.
She significantly advances our SUV design from the perspective of overall size, and her multiple entertaining, leisure and living spaces that combine with her capabilities as a blue-water explorer.
What were your design inspirations?
Every new Riviera model that we create is inspired by the knowledge and lessons we have gained from each model that has come before. Our greatest source of inspiration is what we learn ourselves and from the direct feedback we receive from our motor yacht owners so that we can create the ultimate boating experience.
The 645 SUV needed to be stylish, but more than that she needed to be extremely practical – and that is what we have achieved. The connectedness of the living spaces and the separate private spaces on this motor yacht are important elements of the design. From the aft galley where you can access the foredeck through the side-door, while easily serving the alfresco deck and cockpit, the 645 SUV has a free-flowing design that maximizes boating enjoyment.
By contrast, there are also private spaces on board for when you just need to take time … an optional lower lounge and the chaise lounge in the master stateroom are perfect retreats.
Ease of movement and access were primary requirements in the design of the yacht. Wide and high-bulwark side decks with stainless-steel handrails ensure that movement around the yacht is safe and secure.
There is no area on this motor yacht that leaves you wanting. She is enormously adaptable with a superb level of comfort over two very generous decks.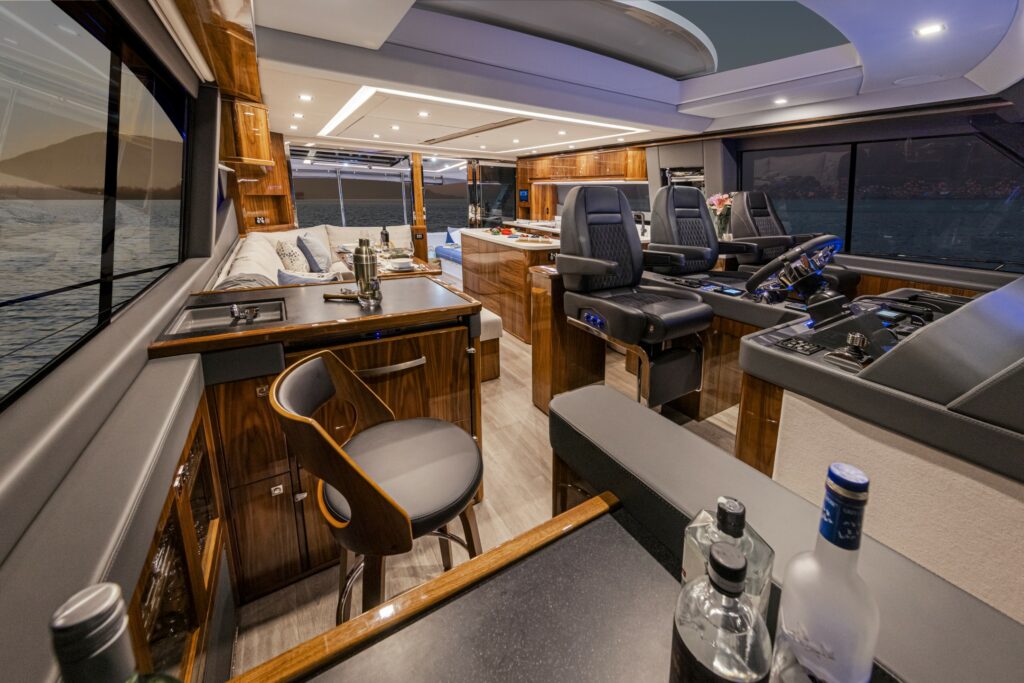 What makes this vessel uniquely Riviera?
Built-to-last quality, superior luxury and blue-water capabilities define Riviera motor yachts of today. Riviera is known internationally as an exclusive luxury motor yacht brand building yachts from 39 to 78 feet and the 645 SUV is an important part of our six individual model collections.
She is an incredibly practical motor yacht whether on the water or moored at the marina. Every new Riviera motor yacht we create represents a refinement of design, performance, and luxury as we incorporate the best of what has come before. We have built more than 5850 yachts and we have continually improved upon our previous designs resulting in the yachts we build today being the best we have ever created.
Riviera's design team have created and engineered a superb V-drive powertrain that has been able to provide the 645 SUV with an extraordinary level of internal space, providing options and opulence to the accommodation deck while providing 34-knot performance and extended cruising capabilities.
The 645 SUV's soft-riding, dry and blue-water hull, exceptional performance and handling also reflect Riviera's 41-year evolution in motor yacht design.
She offers Riviera's true offshore blue-water credentials with a solid GRP hull to the chines with cored hull sides, decks, and hardtop, plus solid reinforced GRP keel and forward collision bulkhead. Large hull windows of toughened glass provide a bold visual statement, while welcoming plenty of light to the accommodation deck.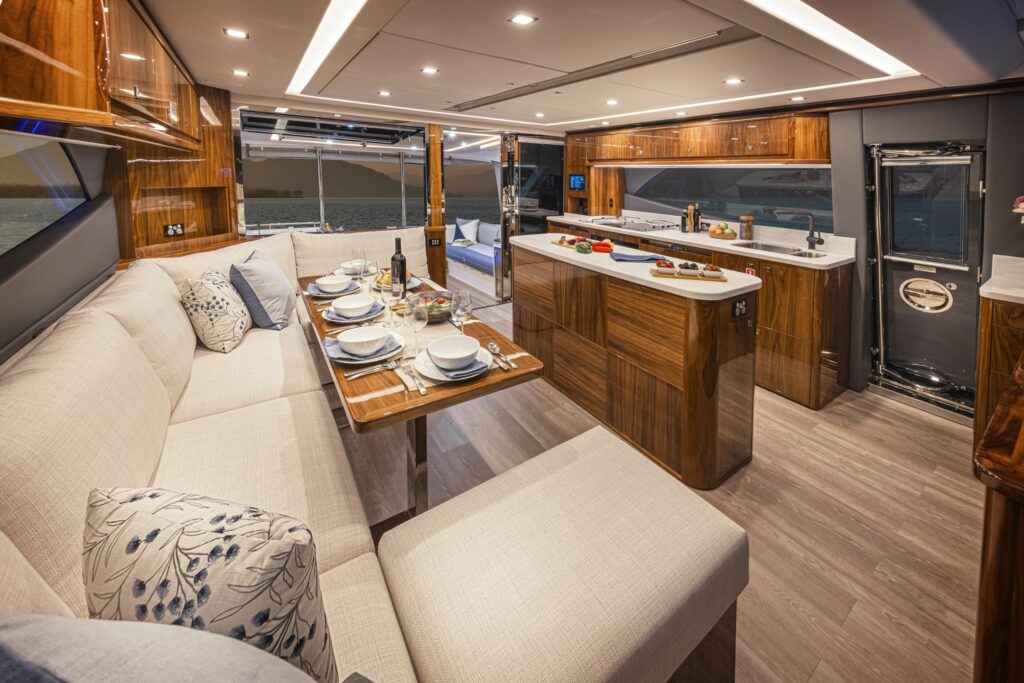 What are your favourite features of the 645 SUV?
The connectedness and useability of the 645 SUV from the relaxing foredeck lounge to the multi-purpose cockpit define her broad appeal. You can wake up from your luxurious master stateroom, head up to the galley, make some breakfast, then enjoy the panorama from the alfresco deck, and then wet a line from the cockpit or catch some sun on the foredeck.
The useability of the 645 SUV and the many features that are designed to make boating easy for a motor yacht of this size appeals to many new owners. For her size, the 645 is a supremely easy motor yacht to handle as a couple, with all of the ease-of-boating Riviera features including joystick docking and underway steering, glass cockpit navigation, C-Zone digital switching, remote cameras and anchoring system, and the digital readout gauges at the external water and fuel filler gauges to name a few. She embraces technology to make boating easier and more enjoyable.
The 645 SUV has many features more usually seen aboard larger motor yachts such as wide side decks and a side-deck door, the versatility of a crew cabin or laundry in the utility room and the full-heigh engine room.
What is appealing about the boat's functionality?
We launched the 645 SUV in May 2021 as the flagship of Riviera's six-model SUV collection. She offers three or four stateroom accommodation, premium luxury and longer-range offshore cruising and superb indoor-outdoor lifestyle features that make the SUV models so practical and popular around the world. The large cockpit is ideal for entertaining and all manner of water sports. The transom can be configured with a lounge or a live bait tank while an entertainer's barbecue centre is housed forward to starboard. To port is a top-loading freezer unit. Just up from the cockpit is the 645 SUV's entertainment and living epicentre – a semi-enclosed alfresco deck offering both lounge and dining spaces. The foredeck is a unique entertainer's space, providing plush lounge seating for up to 10 people. The saloon has been created to optimise the flow and enjoyment of guests. A gourmet galley is along the port side with a generous island bench and an L-shaped lounge extends along the starboard side. The helm is forward on the centreline and a space in the forward starboard corner can be configured as a relaxing lounge, a workstation or cocktail wet bar.
The accommodation deck includes a full-beam master stateroom amidships, a VIP guest stateroom forward with a full queen-sized bed and en-suite bathroom and a second guest stateroom to port with two single berths that electrically slide together to form a double berth. This stateroom has en-suite access to the day head. A fourth stateroom offers twin crossover berths. This area can be configured as an atrium lounge.
The Riviera 645 SUV is powered by a choice of Twin MAN V8 1300hp (956 kW) or MAN V12 1550hp (1,140 kW) turbo diesels. Lithium battery banks are installed in the engine room, reducing weight and providing stringer and more stable power output than traditional batteries.
Multiple reverse-cycle air-conditioning units serve all individual staterooms plus the saloon to ensure guest comfort at all times. In the saloon, side windows of toughened glass can slide open to add air flow and a tinted sunroof over the helm can be opened at the press of a button to add further light and air.
When exterior clean-up time comes, high-pressure water cleaner sockets are located in both the cockpit and foredeck.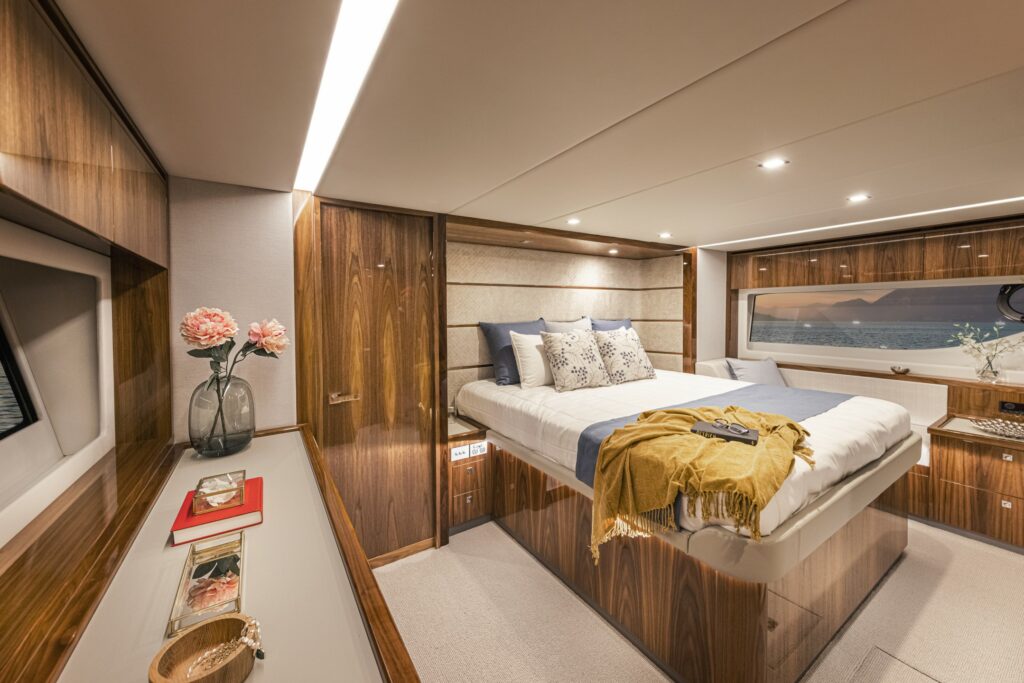 How is the 645 SUV suited to the Australian market?
Australia is a country with a diversity of climates from the tropical north in Darwin to the cold waters of Tasmania, and the 645 SUV is designed to excel in all these varied climates and conditions.
The foredeck, cockpit and alfresco deck are made for enjoying the sunny outdoors of Australia, and she can keep you extremely well protected from the sun when needed. In colder climates, such as Tasmania, the alfresco deck can be easily enclosed with clears to keep everyone aboard cozy and warm and extend the saloon space by one-third.
The 645 SUV is ideal for any style of boating in Australia with her superior range and comfort perfect for extended, relaxed cruising or adventurous weekend escapes.
How does this then translate into other markets where you experience success (Europe/America)?
The connectivity and versatility of the 645 SUV make her at home in any season, climate, or location. Whether in the Mediterranean or the diverse waters of the Americas, the 645 SUV is an extremely capable motor yacht that appeals to boating enthusiasts for her performance and comfort. The Riviera SUV concept has been enthusiastically embraced by owners beyond Australia for the practicality of the design.
Following the Americas premiere of the 645 at the recent Fort Lauderdale International Boat Show, there are now six expectant new owners of the 645 SUV awaiting delivery across the United States from Florida, Puerto Rico, California and the Pacific North-West. Her popularity in the Americas demonstrates the appeal of her single-level design, her ease of manoeuvring, and the engineering excellence and performance sought by our owners.
How have you moved the Riviera brand forwards with the 645 SUV?
The 24 models we build today are the result of 41 years of evolution, during which we have produced over 100 individual models, and it is our passion for the constant improvement of Riviera motor yachts that drives us forward. It is our desire to refine every new model, to learn from our owners and our experiences and to make each motor yacht today better than they were yesterday. The 645 SUV builds on this legacy as she is born from our mission to create the ultimate boating experience.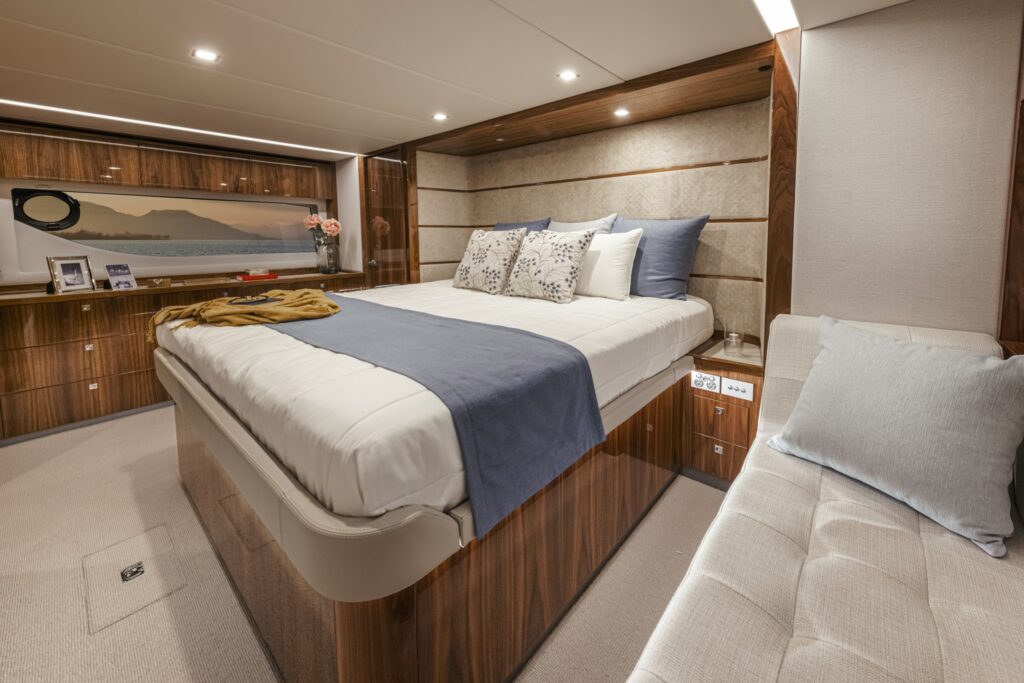 The interior design looks like a beautiful new take on the classic Riviera feel, what kind of options are there for new owners to customise their new boats?
New owners have many options to personalise their 645 SUV, beginning with the choice of two distinct editions – the Classic and the Newport which are exclusive to the 645. The Classic features elegant interior furnishings, a versatile foredeck entertaining space with seating for up to 10 people and four-stateroom accommodation. The Newport includes a distinctive Tungsten silver hardtop, a massive foredeck sun pad, avant-garde saloon features and three-stateroom accommodation plus a lower deck lounge space. These individual editions suit different types of boating enjoyed by our owners and they are available only in the 645 SUV.
New owners can further personalise their interior décor with a range of colours and fabrics for upholstery and soft furnishings on lounges in the saloon and alfresco deck, and for the bedheads and bed surrounds in staterooms. There is also a variety of choice for hard surfaces of benchtops in the galley and alfresco dining area, and similarly for the timber used in furnishings throughout.
The Riviera team takes great pride in the look and feel of every model we build, and the 645 SUV is testament to our assurance that Riviera motor yachts are of the highest quality design and finish.
END
From every angle then the 645 SUV from Riviera is an impressive vessel being stylish, spacious, functional and uniquely Riviera. After major success with this vessel across the globe in 2021, it seems the SUV line from Riviera will only continue to grow in popularity as we move into 2022.
Stay tuned to motoryacht.com.au for the latest from Riviera, Australia and beyond!