Riviera owner Rodney Longhurst has shared his experiences leading Australia's largest luxury motor yacht builder with a select group of university and TAFE graduates as part of a Gold Coast program aimed at enhancing workplace skills.
Mr Longhurst addressed the 24 participants, among them a number of recently qualified tradespeople from his own team at Riviera, speaking on the subjects of emotional intelligence and leadership.
The address was followed by a site tour of Riviera's state-of-the-art boatbuilding facility, the largest of its kind in the southern hemisphere, providing the participants with a behind-the-scenes view of the significant scale of the company's operations. Riviera has a team of more than 850 working on site creating more than 120 luxury motor yachts from 39 to 78 feet each year, with more than half of them exported to the Americas, Europe, New Zealand and Asia.
Mr Longhurst has spoken of his passion creating world-class luxury motor yachts and the importance of making a positive contribution in the workplace.
"I love making things and I especially love making things better than they were," says Mr Longhurst. "That is what I try to do every day, to create a positive contribution."
In offering his advice to those participants looking to start their own business, Mr Longhurst says the key was to understand the 'why'. "Once you have your vision, make it as clear as you can because if you are going to lead a team, they also need to have a clear understanding of that vision. I set a high standard for myself and for the team."
Riviera, which participated in the pilot program last year, hosted the latest monthly event as part of the company's ongoing commitment to industry training and skills development. Kickstart participants receive training through practical and interactive monthly workshops, guest speaker presentations, mentoring and coaching opportunities.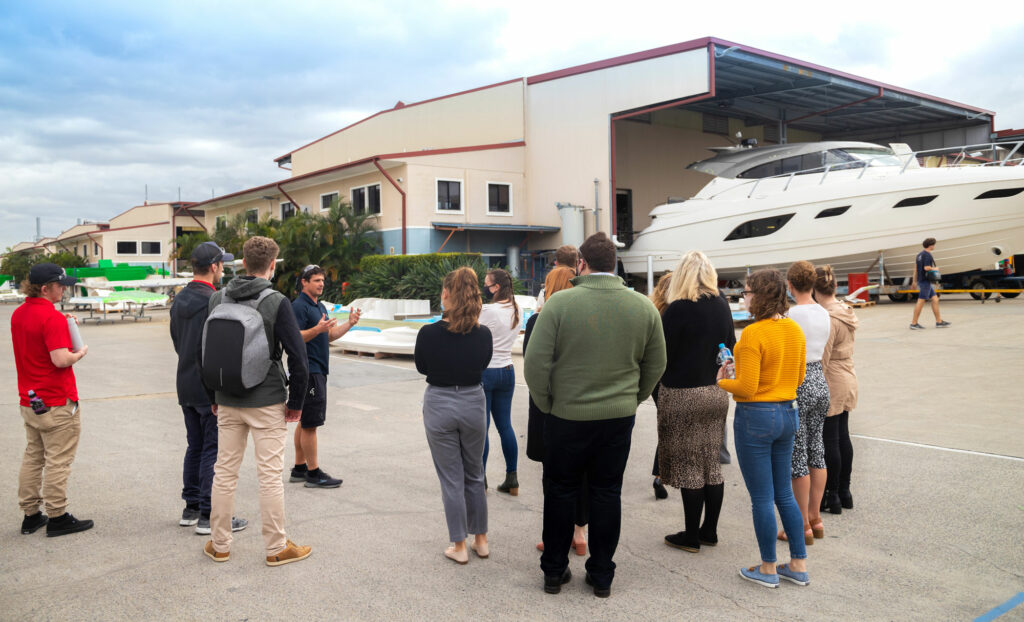 "The emphasis is on communication skills, ongoing learning and critical thinking," says program facilitator Dianne Taylor. "These are next-level skills, or soft skills, that are not necessarily dealt with in their formal studies."
Ms Taylor says feedback from participants who attended the Riviera event was extremely positive. "They were so inspired by Rodney's speech and his attitude to leadership," she says. "They also were super impressed with the site tour and stepping onto one of the newly finished motor yachts. The yachts are like a piece of art."
Riviera has a proud history of supporting the personal development of its team through the company's own Propel program, which is led by senior Riviera management including Mr Longhurst and Riviera CEO Wes Moxey. Through Propel, Riviera apprentices learn about managing relationships and finances, goal-setting, leadership and effective interpersonal communication.
"Kickstart is a complementary program to Propel," says Ms Taylor. "It's the next step to help Propel participants, all of whom have been nominated by their managers, to pursue further self-development."
Megan Connors, the partnerships program manager at Study Gold Coast, hailed the success of the 2021 Kickstart program and the ongoing participation by Riviera.
"To have Rodney speak and to offer so much practical advice to our participants was brilliant – he made his journey so relatable for everyone," she says.
"Some of our participants are in a job for the first time and others have been working for many years. They're moving into industry to experience first-hand what it's like to be out there in the workplace, and being exposed to what's going on at Riviera gave them a chance to see things from a new perspective."
"Some of the Kickstart participants are from the Riviera team and, after hearing about their workplace at other workshops during the year, for other participants to suddenly be in that workplace, to see it and feel it for themselves, is pure gold."
The next Kickstart program will commence in February 2022.