Laurie Erhart is not one to miss an Experience with the R Marine Jones crew – and the Winter Weekend in June was no exception. Laurie joined a fleet of 25 Riviera motor yachts on his family's 5400 Sport Yacht, Velocita. "I attend pretty much all of these events; I aim to never miss one!" admits Laurie.
The fleet lined up on the Gold Coast Broadwater and at 8am left Sovereign Islands. "We took a leisurely trip up into Moreton Bay, really taking our time, which was good as often I zip through there. This time though, with my parents on board, we all got to enjoy the scenery."
The weekend's epicurean highlight began the following day on the beach at Peel Island's Horseshoe Bay.
"The barbecue on the beach was sensational! There were dozens of oysters served multiple ways – everything was exceptionally well done. The thing that was most impressive was Sharm Brown at the barbecue."
Sharm Brown is part of the R Marine Jones team and has more than 25 years' experience at the helm as a qualified marine master; to Laurie though, Sharm is a barbecue master.
"He cooked these giant garlic prawns on skewers that were absolutely gorgeous," says Laurie.
As well as the famous prawns, the team prepared 20 dozen extra-large Pacific oysters, served on sea-salt trays in many delicious varieties – natural, Kilpatrick, mornay, ginger and seaweed.
Another veteran Experience tripper was Gary Lange on his 48 Flybridge Reelistic. "The oysters seemed to never stop coming. We weren't complaining! The team did a magnificent job of preparing them all these different ways. I've become a more experienced boater over time, but I still enjoy the social side of these events and meeting like-minded people," says Gary.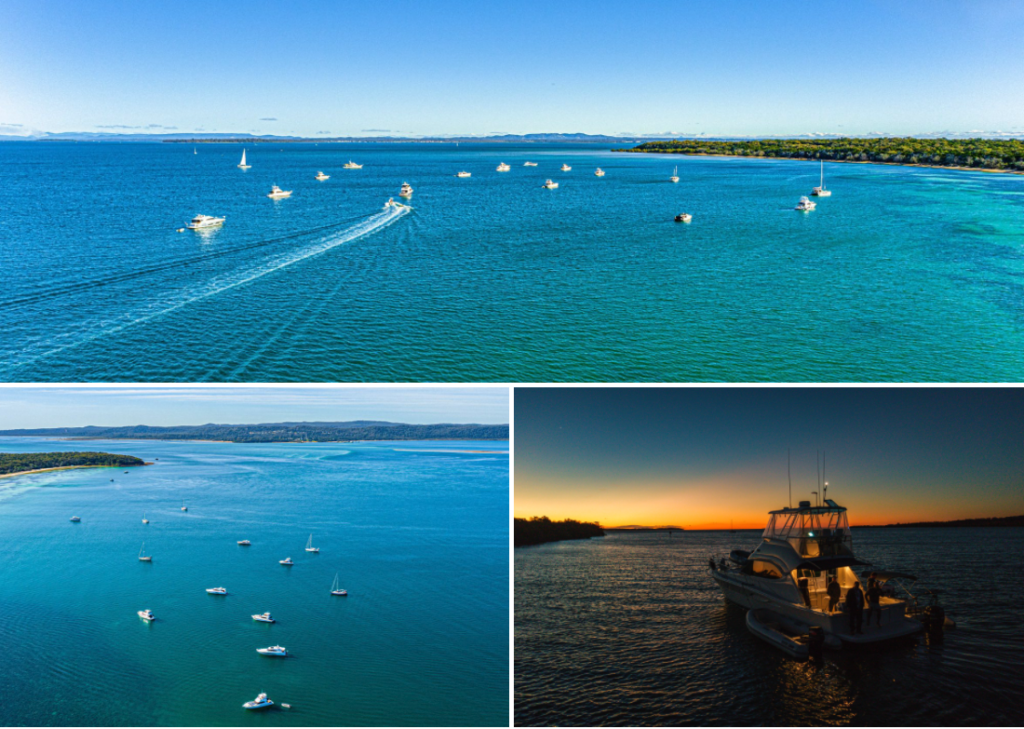 New to the Riviera family and suitably impressed were Barrie and Denise Bould who acquired Irish Eyes, their 43 Open Flybridge, earlier this year.
"Being able to join these events was part of the reason for buying a Riviera," says Denise. "We've been boating all of our lives and wanted to meet more people with a similar love of the ocean and boating. The trip was even better than we expected. Everyone was so lovely. Randall [Jones] was an amazing host and so was our chef, Sharm. Wow! The food, the prawns and oysters were fantastic. We also had a chat about the history of Peel Island which was really interesting. The day was awesome; there were so many different elements to it."
"When the wind picked up later in the afternoon it was all hands on deck as we decided to pull up anchor and head to Canaipa Point to take shelter. We were all in radio contact and then Randall came around the next morning to check we were okay – I found that to be epic."
"We loved being part of a group, with everyone checking in on each other. It was cool to be part of the adventure together, out boating with other adventurous souls. The trip measured up to everything we had anticipated, and our Riviera was everything we'd dreamed it would be. We're so stoked and already looking forward to the next trip!"
On Sunday, most of the boats headed south home with the morning tide, while others stopped along the way, making their own plans to enjoy the day on the water.