Riviera's commitment to quality is seen in many aspects of the yacht build. A prime example of this is in the meticulous attention to detail and quality control that goes into timber selection, precision joinery and the varnishing process. It is in the rich timber finishes where Riviera's peerless quality and exacting detail can be truly appreciated. A combination of technology and the time-honoured work of skilled craftspeople ensures the beautiful finish of every motor yacht.
Hand Selected Timber
The process begins with the hand-selection of superior-grade timbers that include teak, walnut, oak and cherry. Riviera's great reputation and relationship with suppliers ensures the very best materials.
Each timber imparts a different onboard ambience. Historically, teak was the most prevalent timber to be found in boats, offering a traditional interior ambience.
However, a new range of timbers provides greater choice and interior aesthetics. One example is American walnut, which is a dark golden-brown timber, traditional in style, and the most frequently chosen by Riviera owners.
White oak is a blonde, brighter timber and provides a Scandinavian look that is beachy and airy. American cherry varies from rich red to reddish brown and also offers a rich traditional interior colour scheme for boat owners.
The criteria for timber selection are exacting. On arrival to the Riviera boatbuilding facility, our craftspeople use a keen eye to inspect for any imperfections, for example knots and excessive movement in the grain. Once selected, these veneer sheets are delivered to the CNC machine to be precisely cut using measurements extracted from a 3D model.
CNC machining cuts veneers to size and timber components, such as mouldings and solid edges, are created by the machine shop. These are assembled into kits and sent to the joinery shop where a skilled tradesperson joins and constructs all the interior joinery components, drawing again from the 3D model.
There are thousands of parts in every model, all individually numbered and allocated to a specific motor yacht's unit, for example, an aft cabin bedside cabinet or a TV unit. Quality control (QC) measures are taken throughout all of the joinery stages to ensure everything meets Riviera's strict quality standards. After QC, the kit is delivered to the varnishing team.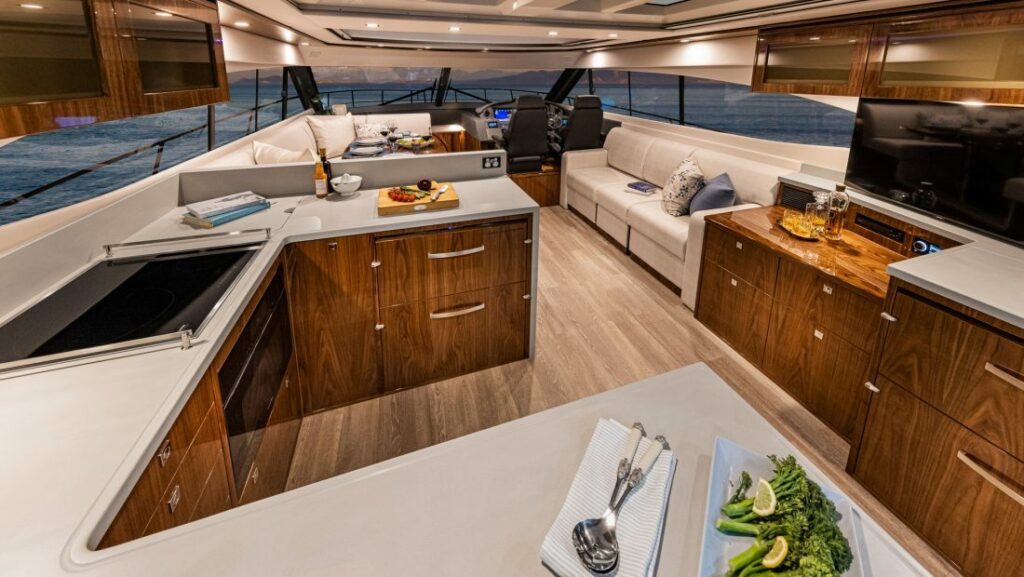 The Varnishing Process
The varnishing process, which also has multiple QC checks through each stage, begins by preparing each component with a fine finish sand of 240 grit.
This is followed by a four-step paint process comprised of a base coat, two build coats and a final coat. At each step, the parts receive a wet-on-wet paint (two coats with tack-off time in between) and are cured in sealed drying rooms.
Some of this work is accomplished by Riviera's craftspeople, and some is finished with a robotic finishing varnisher. The robotic varnisher is used for flat surfaces such as doors, walls and cabinet surfaces. It reads each part and uses a precise amount of paint for minimal waste. Parts are cured in a non-contaminated heating room and a final coat is applied by hand.
Finally, each part is run through the detail bay for buffing and detailing. All parts have a final QC before they move on to sub-assembly. The varnished kit is then assembled into cabinetry ready for delivery to the fit-out department.
A Beautiful Finish
Riviera's internal timber finishes are sealed with a high-quality two-component acrylic polyurethane clear-coat varnish. The clear coat is formulated with UV-absorbing resin technology that provides a long-lasting, low-maintenance finish. It also mitigates any yellowing over time.
An ultra-high build coating, with crosslinking, provides a perfect combination of durability with a glass-like finish. Gloss or satin finishes are options. The clear-coat finish is easy to maintain without the use of chemical cleaners. The Riviera team recommends that motor yacht owners simply use warm soapy water and a microfibre cloth to maintain the polished timber surfaces.