CES is a global consumer electronics show which hands out innovation awards each year, usually to leading electronics leaders such as Samsung and Sony. But for the 2021 awards, a brand well-known to boaters – Mercury Marine – was also in the spotlight. Mercury was honoured in two categories for 1st Mate, a safety and security system that integrates a boat's propulsion system through an intelligent hub.
In essence, 1st Mate is an expandable network of FOBs connected to the same hub as an app and the boat's engines. While the promise of the technology is broad – and while the system is built for future updates via the cloud – today, 1st Mate has three primary functions.
First, the system handles man-overboard monitoring and alerts. If a captain goes into the drink, the engine automatically cuts off, a GPS location is logged, and the system sends passengers instructions for how to restart the engine and get back to the coordinates. If a passenger falls overboard, the system doesn't kill the engine, but it does sound alarms and give the skipper GPS coordinates.
"We see folks who tie things to the back of their boat. You could attach 1st mate on a dinghy, on a cooler," says Zach Savage, Mercury's lead engineer for the product. "If you're going forward and something falls off, you'll get notified."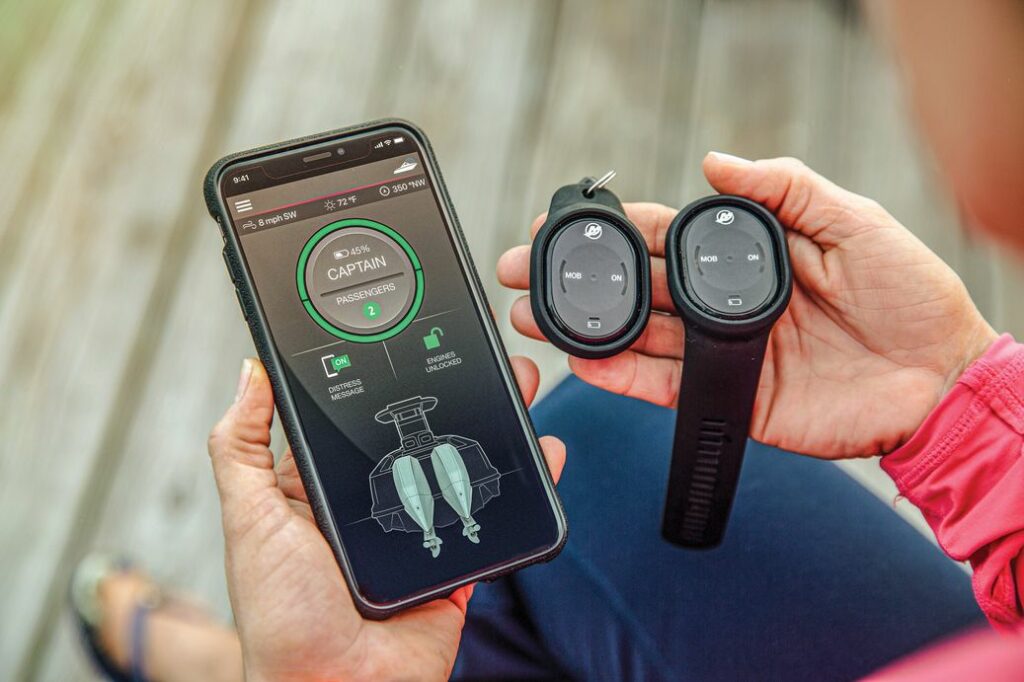 The system's second primary function is distress messaging for solo boaters. "Let's say you're fishing and fall overboard, and you can't get back on board," says Rob Hackbarth, Mercury's director of controls and rigging. "The app knows that you went overboard, and there's a countdown timer. After it expires, it will send notifications to the emergency contacts in the app. So now, the family member ashore can notify the right authorities and give them the actual coordinates where the person went into the water."
Thirdly, 1st Mate can aid in theft deterrence. The system can be programmed so that only the skipper can start the engine, or so it won't start after a certain time. "We're trying to think about scenarios for people sharing the boat with large families," Savage says.
More features are in the works for this promising piece of kit that would make life on the water somewhat stress free, the technology offering much more potential and room for expansion.