A recent recipient of the 2021 Multihull of the Year award in the Multipower category, the Aquila 54 Power Catamaran embodies the reliable features and construction methods of the hundreds of Aquila yachts and boats cruising the waters of the world. This Aquila 54 model has enhanced onboard luxuries with full-size refrigeration and layouts that include 3, 4, and 5 cabin options as well as skipper's quarters and "galley-down" layouts.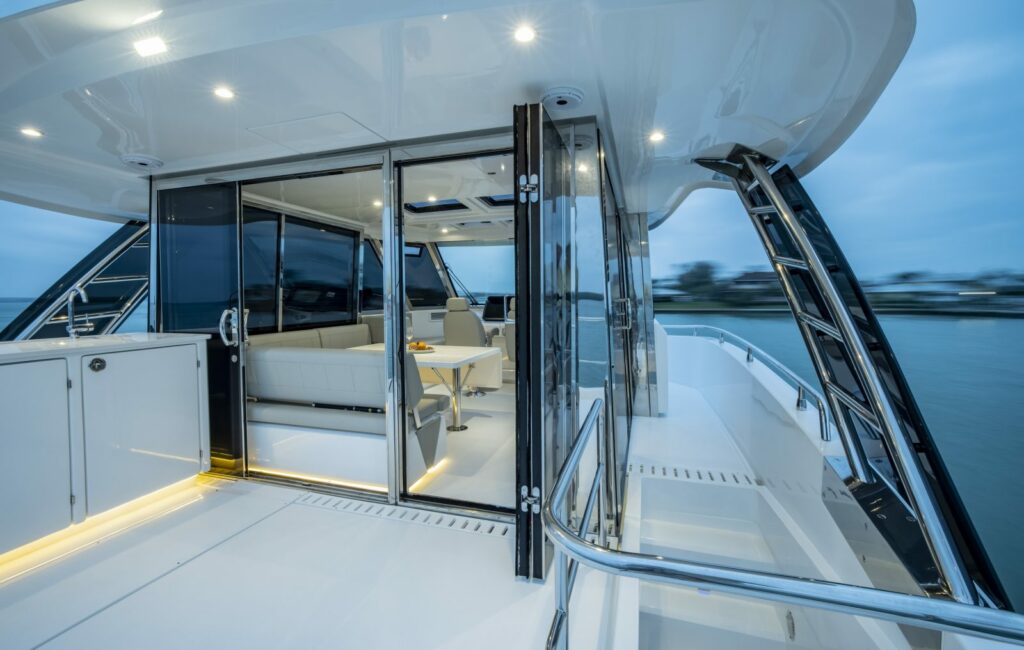 After years of building power catamarans and experience with hundreds of boats used in charter fleets around the globe, the team at Aquila understands the importance of quality and innovation to the serious cruiser and proud yacht owner. The Aquila 54 will be a spectacular addition to the Aquila boat line. This new model offers sensible working decks, an abundance of storage and the spacious interior Aquila is known for.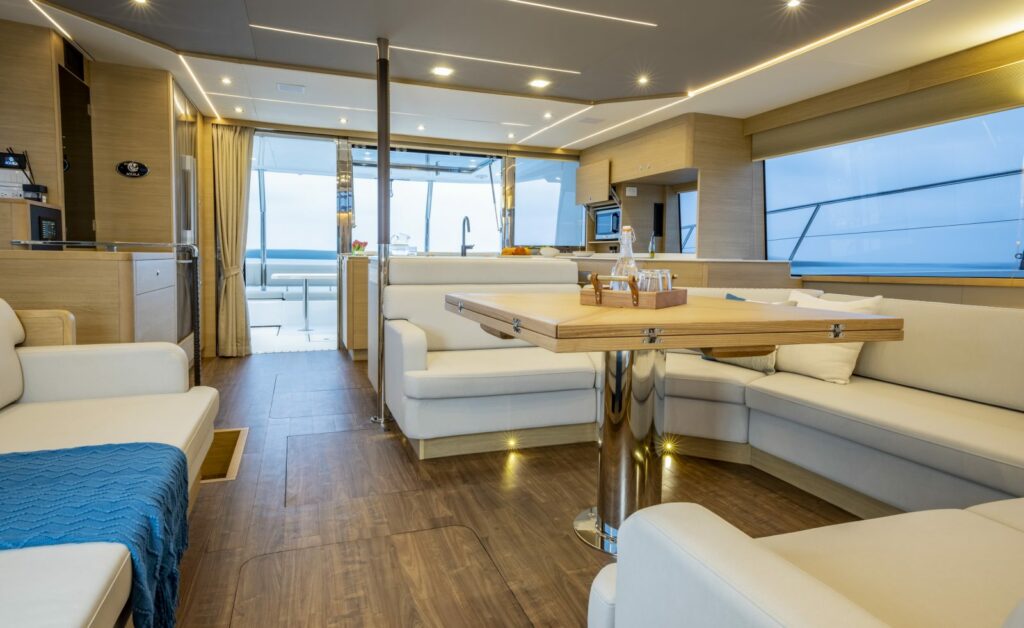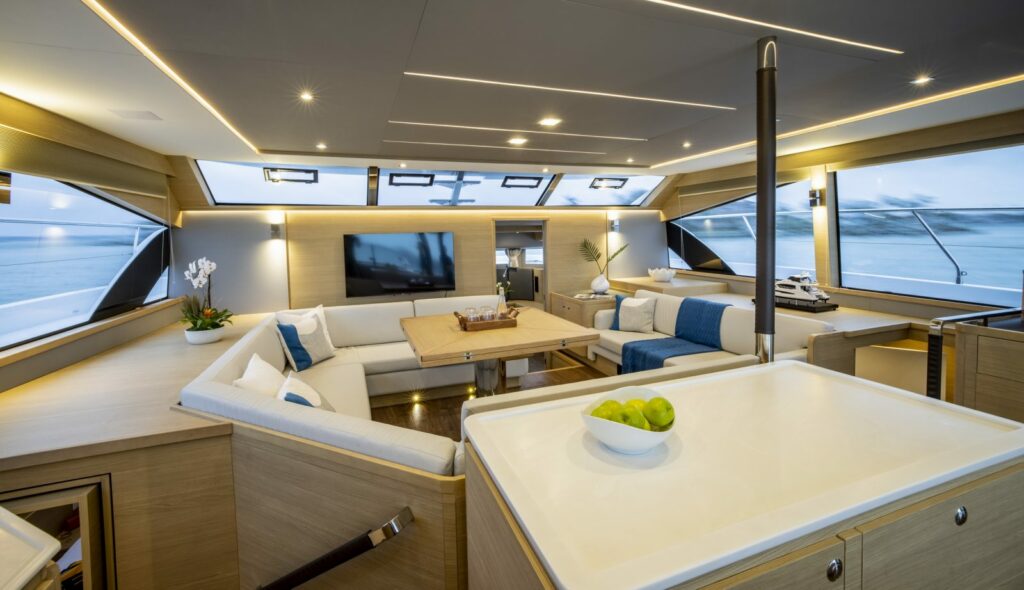 New models and innovation are a corner stone for Aquila and have aided in them become the leading power catamaran builder in the world. The innovative features developed are often generated from customer feedback gained around the world. Performance and aesthetics are extremely important to their customer base who desire a large power catamaran that looks and performs like a yacht more than a typical catamaran.
The list of standard features will impress anyone familiar with vessels of this size. For example, layout options include as many as 5 cabins and full-size refrigeration, which is rare to find in a 54-foot boat. Owners will delight in panoramic views that fill the master cabin with natural light through large hull side windows, adding to the spacious feeling of the full-beam forward master cabin. Performance, another hallmark of Aquila will allow for exciting high-speed operations (30+ kts) as well as slower, more efficient extended cruising ranges of 800 miles without single engine conservation techniques.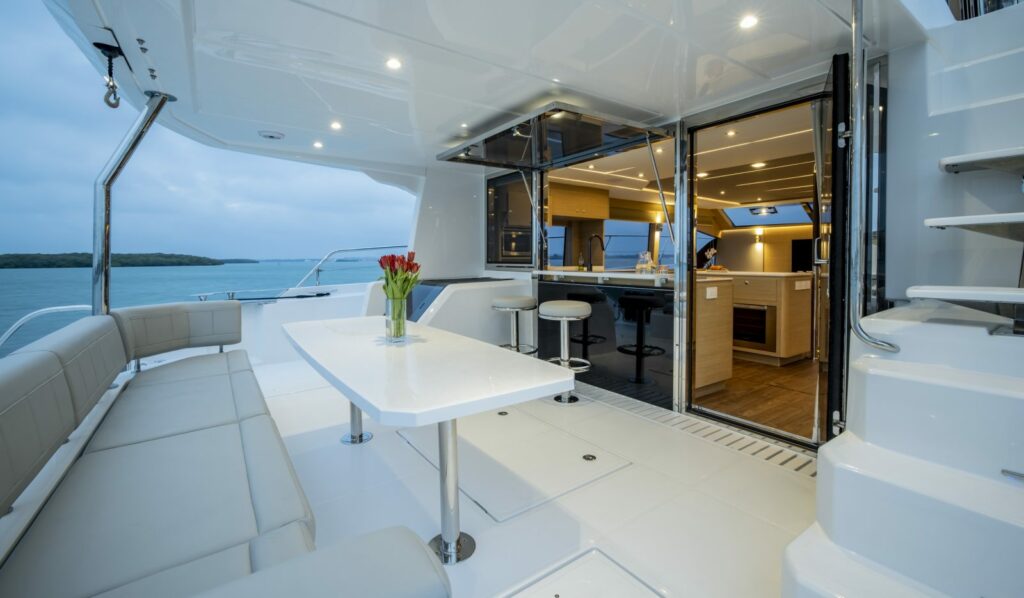 Continuing to push innovation forward, the 54 offers amazing versatility in its flybridge configurations. A traditional low forward windscreen incorporates a Greek fishermen bridge and graceful stairs to the bows (a signature feature on Aquila's). Other configurations include a solid safety glass front windshield for comfort and ease of use while still retaining an open and full breeze social area on the bridge. For those looking to control their climate even further the bridge can be fully enclosed, provided with heat and air condition complimented with solid glass side and rear windows as well as exterior entry doors. This versatility is the result of global markets demanding different configurations to maximize boating in their specific and unique climates.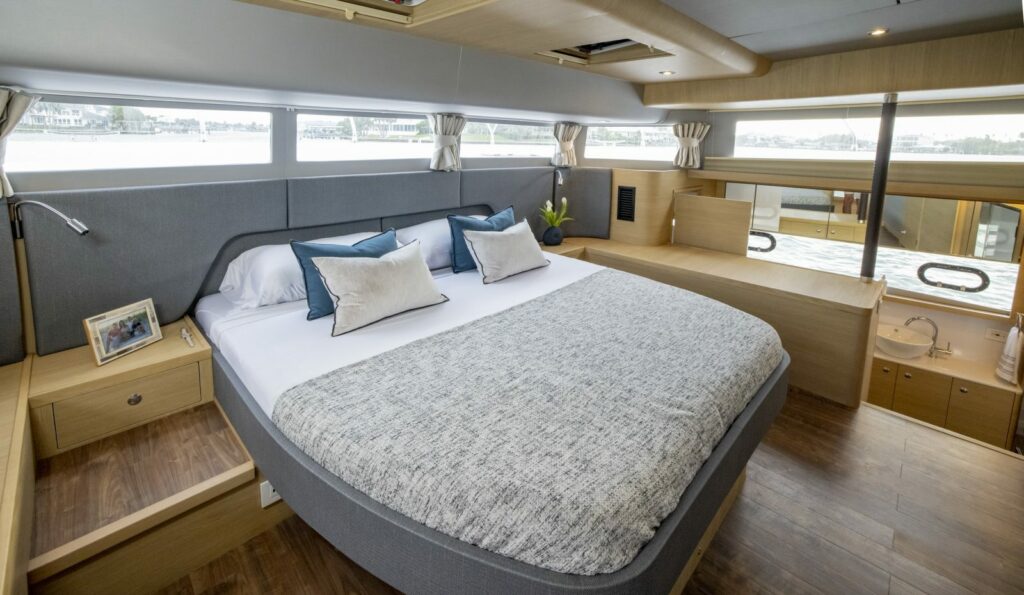 Engineering excellence and ingenuity continues with the systems and mechanical requirements being installed behind the rear cabin bulkhead. This thoughtful design places all noisy, hot and odor generating equipment aft, clear of any disruptions in the cabin. Furthermore it keeps service personal and crew free from intruding or disrupting cabin spaces to perform routine maintenance.
Multihull Central are the exclusive stockist of the award winning Aquila range here in Australia and hope to deliver the 54 later this year, already carrying a range of exciting vessels from the illustrious brand.
Take a closer look at the upgraded experience and versatility aboard the Aquila 54 Yacht Power Catamaran here with this virtual tour.