From the Great Lakes and ponderous rivers to the Atlantic's Sargasso Sea, there's no beginning or end to the Great Loop. Encircling the bulk of the eastern part of the United States the system of natural and artificial waterways passes through 15 states and is as imaginably diverse as it is vast.
Riviera's Experience magazine caught up with intrepid boating couple Skip and Alison Payne as they approached the midway point of their Great Loop cruise at Duck Key in Florida Keys.
"We didn't pick the place and time to start the Great Loop," says Skip Payne. "That happened when we chose the boat."
The Paynes had dreamed of cruising the Loop for years and they were on the lookout for a specific motor yacht to make the most of their journey.
"We'd had a Riviera 43 Flybridge for about five years and had been so impressed that we couldn't imagine having anything else but a Riviera," says Skip. 
"For the Great Loop though we were looking for something like an SUV; it seemed ideal because of how versatile it is."
"It's roomy with a lot of interior space and has a great big cockpit for entertaining or fishing. We wanted a single-level vessel and an indoor helm. We'd be passing through a variety of climates and wanted to have that climate control at the helm, and as it would be just the two of us, we wanted to be on the same level."
"Actually we were after a Riviera 445 SUV, and we just lucked upon a 565 SUV (now the 575 SUV) available in Onekama, Michigan."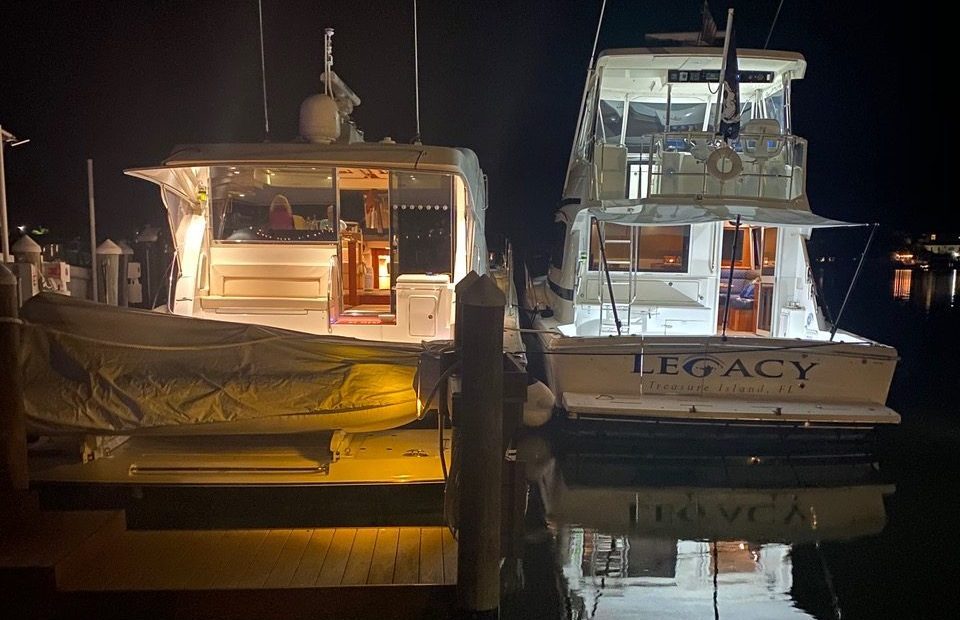 Intrigued by the Possibilities
In October 2020, the Paynes travelled 2200km north from their Florida home to step aboard the 565 SUV. They were so 'intrigued' by the possibilities they acquired her and started the Loop from Lake Michigan. 
"We still have the 43 Flybridge. It's such a good boat I couldn't part with it," says Skip. "We have four sons, the second eldest has his captain's licence, so he is utilising the 43 FB to maintain the weekend family boating tradition with his brothers."
Both luxury motor yachts are named Legacy, after the love for boating bequeathed by Skip's father. The 565 SUV is Legacy G2, for the second generation.
"Boating has always been a family activity for us," says Alison. "Our sons love it as much as we do and on Legacy G2 there's room for all of us as they join us for parts along the way."
On a luxury motor yacht entirely new to them, the Paynes set off from Onekama to Chicago on October 7 where they waited until November 1 for the locks to open. Over the next five weeks they worked their way south running from the freezing cold temperatures. It was an ambitious undertaking on a new motor yacht in a unique and ever-changing environment.
"We embarked from the Illinois River to the Mississippi River to the Ohio River, then to the Cumberland River and the Tennessee–Tombigbee Waterway," says Skip. "We were still figuring out how things worked on the boat – how even to turn the TV on – as we cruised under a hundred bridges and went through 23 locks. We came out in Mobile, Alabama, and entered the Gulf of Mexico."
"Along the way, we met up with several other Great Loopers, all from different walks of life," says Alison. "We wound up travelling with them for two to three weeks. We travelled slowly in the rivers as there are lots of logs and debris that you need to watch out for."
"Primarily between eight and ten knots," adds Skip. "We chose to play it safe and stick with other boats. We became friends with them, and we still stay in touch with them now."
"What's so intriguing to me about the Great Loop is the vast variety of places we passed. From little towns along the Mississippi and the Illinois Rivers with their houseboats to the mega-yachts of Key West and Fort Lauderdale."
Sharing the Adventure
"There's a variety of people doing this trip too, from those on 50-year-old trawlers, others on brand new multimillion-dollar boats and us on a Riviera with all the creature comforts. Everyone just gets along, all sharing a common interest in a common adventure."
The Paynes stopped by Pensacola on Florida's north-west coast for a family Thanksgiving and later arrived home at Tampa Bay's Treasure Island on the mid-west coast of Florida on December 10. They took a couple of months' land-holiday with their family before setting off again south.
They have no regrets choosing a larger luxury motor yacht than they'd originally anticipated. 
"People can't believe how much room there is in the saloon and how big the galley is," says Alison.
"I really enjoy cooking and love that I can be in the galley while Skip's at the helm and we're still together in the same space. I have all the appliances I need. The induction four-burner cooktop works like a charm, the microwave/ convection oven does so many things, and with a rapid heat button even my oven at home doesn't hold a candle to it. And there's so much countertop space!"
"We've grown to appreciate the amount of fridge and freezer space," adds Skip. "We didn't realise how beneficial it was until spending weeks at a time on the water. One feature I probably love the most though is the dynamic positioning system that keeps us in the same spot using GPS. It's amazing and it's been very helpful when waiting for locks to open, which sometimes can be hours."
The positioning system has been handy for fishing, too.
"Twenty-one years to the day that my dad had passed, I took my sons to his favourite fishing holes, locked in our position, sat there and loaded the coolers up with fish. It was absolutely amazing!"
In Duck Key, the Paynes have completed around 40 per cent of their roughly 4,700 nautical mile journey.
"We're at the southernmost tip of the Loop now," says Alison. "From here, we'll work our way up the east coast of the US to New York. We'll meet our sons in Charleston for Skip's 60th birthday, and we plan to spend some time in Long Island, up in Nantucket and Martha's Vineyard, and then enter into the Hudson to continue."
"One of the things we're really looking forward to is going as fast or as slow as we want to… just depending on where we are."