2021 has been an eventful year for Absolute Yachts, with the release of all new vessels, a grand return to boat shows and a plethora of exciting announcements throughout. Fortunately, I recently had the opportunity to sit down with Cesare Mastroianni, Vice President of Sales at Absolute Yachts, to discuss the years activities and successes.
As of September this year, boat shows made an emphatic return which was excellent news for a marine industry still struggling with the effects of the pandemic. "Direct contact with clients for us is so important," said Cesare, "It helps visitors understand the level of quality at Absolute, highlights features, and makes it easier for attendees to see the differences between Absolute and our competitors."
Absolute's first stop for the season was the prestigious Cannes Boat Show. Cannes is one of the largest floating boat shows in the world and a strategic opportunity for brands to present their latest offerings at the very start of the boat show season. A large number of renowned European shipyards use Cannes as the main stage for their new products, and this was no different for Absolute, showcasing the newly designed 60FLY and the 48 Coupé to those in attendance.
The week thereafter Absolute attended the historic Genoa Boat Show, an esteemed event that is attracting more and more motor yacht enthusiasts year on year. Absolute were also able to showcase models in Genoa and reported a successful weekend, showcasing 6 units in their model line-up.
A month later Cesare and his team were involved in the Fort Lauderdale International Boat Show in Florida. "Fort Lauderdale is of upmost importance to Absolute," said Mastroianni. "As a European yard it allows us to continue to expand our presence in the North American market, with Fort Lauderdale attracting visitors from South America and Asia too. It is a truly international affair." The informal environment of Fort Lauderdale Boat Show gives Absolute a real chance to connect with potential clients on a personal level.
Mastroianni believes that the power of these interpersonal interactions at shows are unmatched, an element that has been sorely missed over the last 18 months. "Clients are able to step onboard and instantly see the quality of our vessels and our brand-new features can be tangibly demonstrated," Absolute aiming to impress visitors stepping onboard at these industry events.
All three shows were a major success for Absolute, Cesare extremely happy with both the quality and quantity of traffic. "People who came to visit Absolute were really interested in understanding our products and making choices towards their next purchase."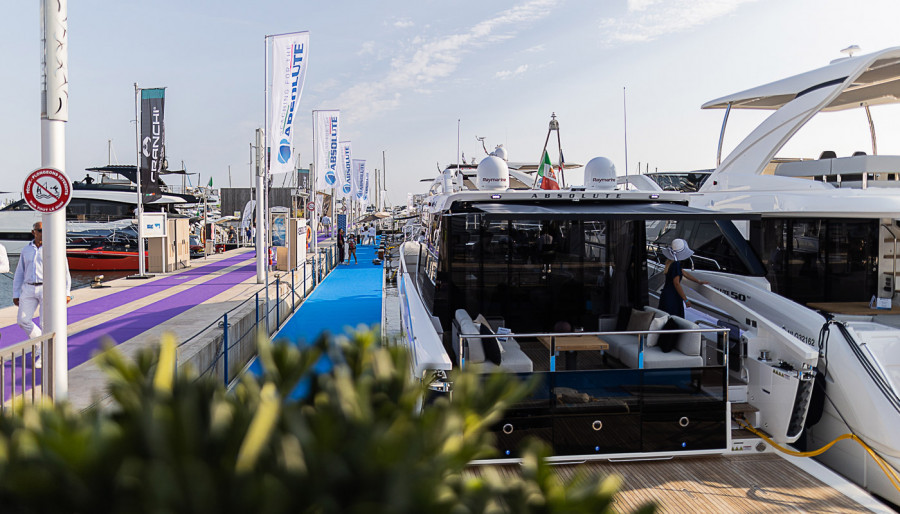 The all new 60FLY and the 48 Coupé attracted deserved attention resoundingly throughout Absolute's entire show circuit, showcasing three major new concepts and ideas that have not been seen in Absolute's range so far.
Both new vessels feature the new redesigned cockpit concept, offering owners a custom furniture layout experience to cater to their needs, provided by a set of modular furniture. "The cockpit can be equipped with a dining arrangement, a cocktail bar, a sunbathing arrangement. Thanks to the versatility of the furniture modules, really the possibilities are endless," said Cesare.
This idea has been expertly achieved by Absolute through close work with a specialised modular furniture team based in Italy. The modular kit allows total flexibility for owners, who are able to change the layout of the cockpit space in accordance with their preferences.
Another main point of interest onboard these two new vessels is Absolute's unique bow master cabin design. The impressive bow master cabin provides comfort, privacy and tranquillity, located between the main deck and accommodation levels onboard. This means that the cabin itself is three feet above the water level, allowing the space to be flooded with natural light through panoramic windows. As a result of this expert use of space, Absolute are able to provide owners with a secondary master cabin – the VIP cabin – placed amidship, which is tremendously attractive for owners who want comfort not only for themselves but for their guests.
Impressively, both vessels are also equipped with a state-of-the-art solar array, included to increase comfort onboard at anchor. Owners are now not required to run their genset at anchor, the solar array able to power major appliances onboard for a day in complete silence. "The solar panels enable owners to run all of their major appliances simultaneously," said Mastroianni, "however the panels cannot power the air conditioning."
To overcome the problem, instead, onboard the 48 Coupé, Absolute have developed a new set of electrical windows that open the sides of the main deck almost completely. "By opening these expansive windows, the sliding door aft and the captain's door, the vessel will receive enough natural ventilation to remain in the marina and at anchor with no noise, no pollution and no vibration." Of course, if it is hot, it is still possible to run your air-conditioning from your genset, yet it is reassuring to see that Absolute seem to have innovatively covered all eventualities.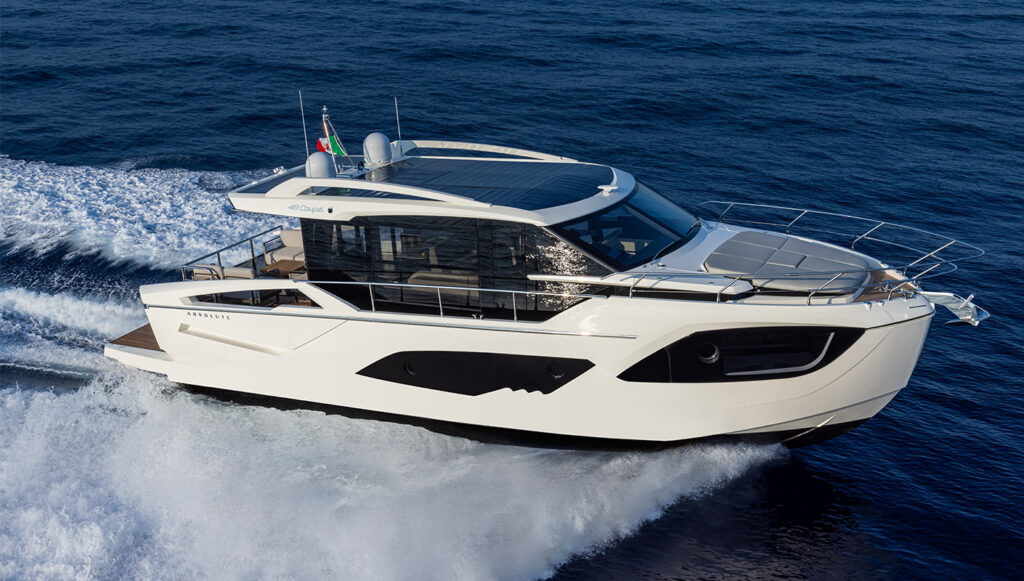 The 60FLY has received an incredible amount of attention this year as the latest model in Absolute's popular flybridge range. The revolutionary model has the feel of a vessel much larger and lays major focus on innovation, functionality, and owner comfort.
"In the 80s and 90s many boaters only considered aesthetics and speed when making a purchase. Yet in this modern age more and more people are attracted to the idea of spending quality time onboard and that is why the boats functionality is so important to us. This, combined with a strong and sturdy construction, allows for optimum comfort onboard in all weather conditions. I feel that is why the 60FLY would be perfect for Australian boaters and the Australian climate," stated Cesare. The popularity of Absolute models, with the 60FLY leading the way, is ever increasing in Australia, vessel sales increasing year on year as a result of a longstanding partnership with Australian industry giants, Premier Marine.
Another major accomplishment for Absolute this year has been the growth in popularity of their Navetta range since its inception just 6 years ago. An Absolute Navetta provides a more efficient experience, without sacrificing space or comfort onboard, resultantly allowing owners and their families to cover larger distances with incredibly low consumption.
"We have had so much success with the Navetta range all over the world. We are selling Navetta's from California to Japan, from Singapore to Oslo, from Istanbul to Dubai. I believe this is because the Navetta range truly represents something that was missing in the market previously," said Cesare. "We have now implemented a full line-up of model sizes in the Navetta range. We are the only manufacturer in the world today proposing a consistent, comprehensive, full featuring set of Navetta style products and as a result we are truly the market leaders in this segment."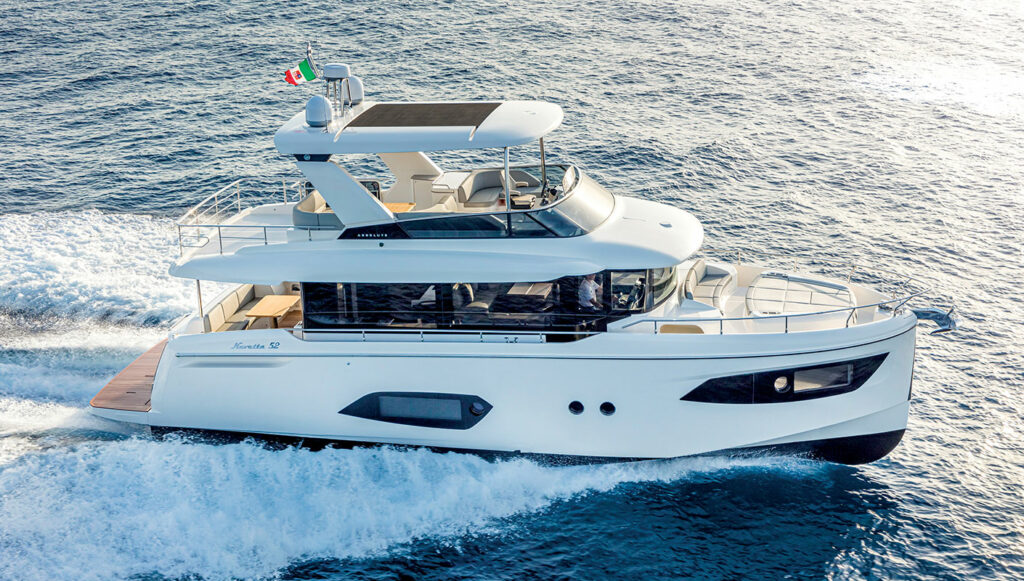 2021 then has been a year of innovation and excitement at Absolute Yachts, with gains made in every aspect all over the world. But the excitement doesn't stop there. Cesare Mastroianni and his team are already prepared for what is set to be another year of resounding success, with three totally new models from Absolute to debut at shows in 2022. "The 56FLY, the Navetta 75 and the 52FLY will all make their debuts next year. I think it is a very exciting model line-up not only for us at Absolute, but for our existing owners and future clients."
An overall interesting roundup with Italian giants Absolute Yachts, shining light on some major achievements in what has been a very tumultuous year for many in the marine industry.
Stay tuned to motoryacht.com.au for the latest from Absolute Yachts, Europe, Australia and beyond.
Tom Baker – Editor