In 2020 Winch Design put their heads above the parapet and published Life Worth Living: Their plan to care for people and the planet. Winch are ensuring that they grow the business sustainably, coupling their success with environmental and social prosperity. 
As the world's leaders meet in Glasgow for the COP26 to discuss the future of Planet Earth, Winch are upholding their promise to be authentic, honest and transparent about their progress and their experience as a studio. They want to keep the conversation open regarding their journey to transforming not only the business but also the industry and wider supply chain. 
Winch Design acknowledge that they have much more to do, however, small early successes combine to create a bigger impact. Their sustainable progress is not only at an office level but crucially is also expanding in terms of design, innovation, research and implementation across the board on their projects.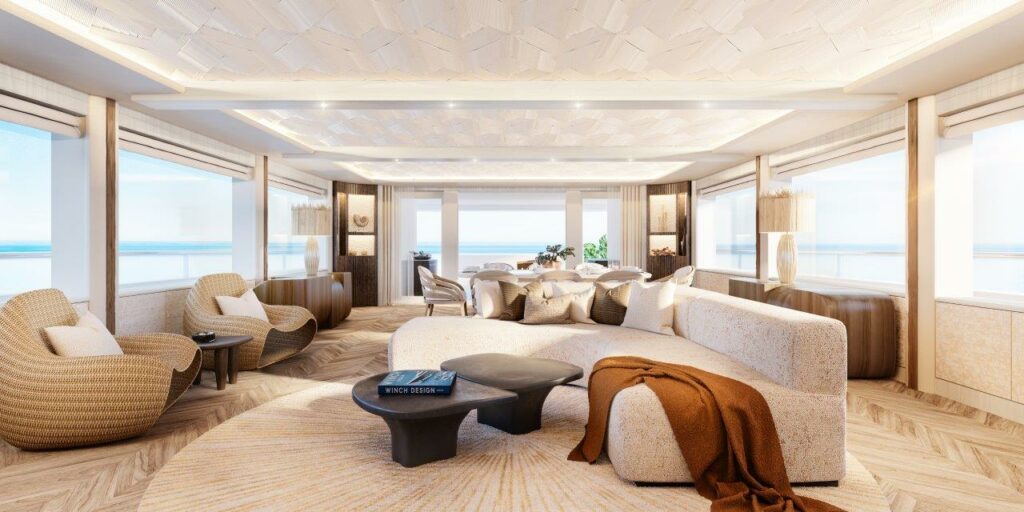 Barefoot and Moonlight
Earlier this year the yachts studio revealed two ground-breaking sustainable yacht interiors created for the new Amels 60 series, titled Barefoot and Moonlight. Both designs are poles apart in terms of design brief, but united by one ground-breaking similarity: they are the first yacht interior case studies designed in conjunction with and verified by The Water Revolution Foundation (WRF). The WRF is an independent industry body that is driving forward meaningful sustainable change by encouraging and supporting innovation and collaboration in the industry.
Barefoot and Moonlight mark a significant mile-stone for sustainable progress.
As part of Winch Design's commitment to a meaningfully sustainable future, the interiors team spent six months deep diving into the world of truly sustainable finishes. Meticulous attention to detail was paid to materials, production, sourcing and packaging processes to ensure that they were making a genuine contribution to sustainable design and paving the way forward by demonstrating what can be achieved. 
The team researched and utilised an abundance of sustainable and innovative materials to illustrate that sustainable design is synonymous with luxury bespoke interiors. On board Barefoot, pineapple leaves undergo a non-chemical process resulting in a lightweight, versatile and hard-wearing leather alternative, adding subtle texture to wall panelling. The ceiling dome is dressed in a recycled and recyclable 'parquet' rope panelling which mirrors the beachy, natural theme. Sand is sculpted and pressurised using air and water to create a centre-piece wall finish that mimics the form of raw stone and fine, almost translucent layers of aloe vera create a coral-like textural finish in the surrounding niches.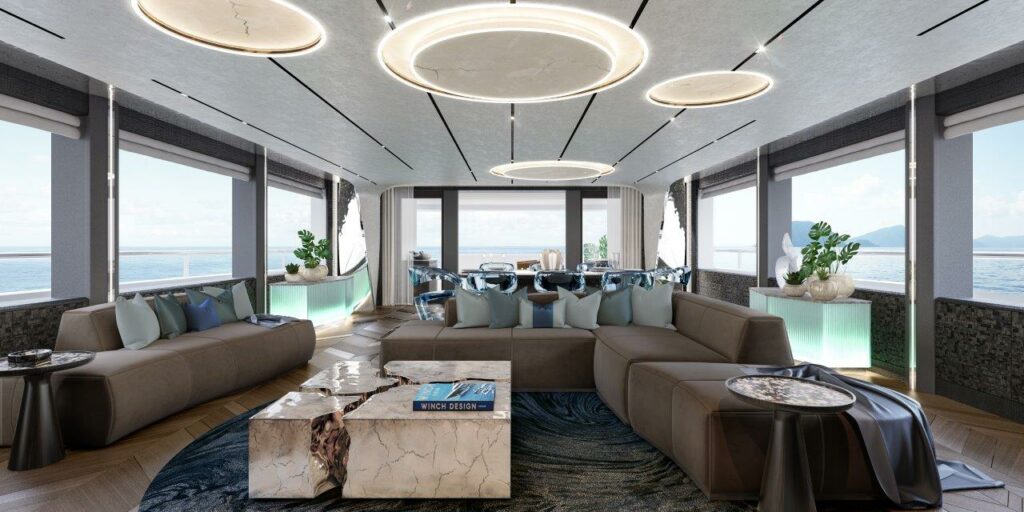 Sustainability at a Studio Level
Meaningful change starts at an individual level and Winch have taken big steps to ensure that they continue to reduce their environmental impact as a studio. Winch have been awarded The Planet Mark for another year, recognising their continued efforts and success in reducing their carbon footprint by at least 5% year upon year. 
The studio also continue to work closely with their nominated charities: The Blue Marine Foundation, Maggie's and The Felix Project. All employees are given one day away from the studio per year to spend time volunteering or fundraising for their selected charitable cause.
Finally, the studio were thrilled to announce that Winch Design transitioned to full employee ownership in July of this year. This means that 100% of the business is now owned by the Winch Employee Ownership Trust (WEOT) and the future of Winch Design is in the hands of its employees. Doing so ensures meaningful growth that prioritises their values as a studio, ensuring that community and sustainability remain at the core.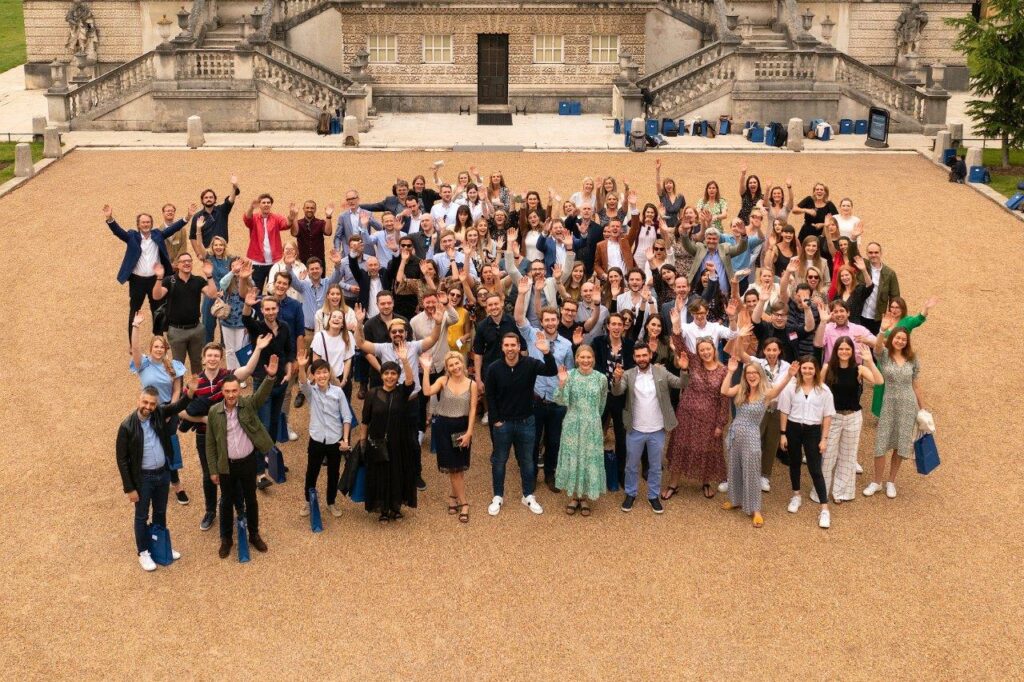 Social Sustainability
Ensuring sustainable growth goes beyond reducing carbon emissions and utilising sustainable materials on projects. True sustainable growth also means factoring in our local communities to ensure Winch share their successes, be it financially or through providing educational or social opportunities. 
Winch have an extensive and successful internship programme currently underway and work closely with Richmond College, Kingston University, Southampton Solent and Coventry University to offer work placements to students who demonstrate exceptional talent and interest in the world of design. 
Winch are also supporting an additional two scholars from the Queen Elizabeth Scholarship Trust, Robert Walker and Nico Conti, whose further training and skill development will be funded by Winch Design for a full year. Robert Walker is a sign painter specialising in verre eglomisé and Nico Conti uses an innovative technique of  3D printing with ceramic to produce beautiful and delicate sculptural pieces of art. 
Winch Design are excited about the sustainable future of the studio and the luxury design industries and look forward to updating us as they progress further on their mission.